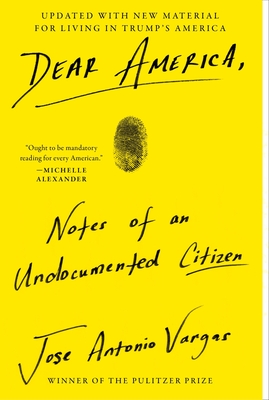 Dear America: Notes of an Undocumented Citizen
Publication Date:
September 3rd, 2019
Publisher:
Dey Street Books
Usually received by store in 2-5 days.
Description
THE NATIONAL BESTSELLER
"This riveting, courageous memoir ought to be mandatory reading for every American."  —Michelle Alexander, New York Times bestselling author of The New Jim Crow
"l cried reading this book, realizing more fully what my parents endured." —Amy Tan, New York Times bestselling author of The Joy Luck Club and Where the Past Begins
"This book couldn't be more timely and more necessary." —Dave Eggers, New York Times bestselling author of What Is the What and The Monk of Mokha
Pulitzer-Prize winning journalist Jose Antonio Vargas, called "the most famous undocumented immigrant in America," tackles one of the defining issues of our time in this explosive and deeply personal call to arms.
"This is not a book about the politics of immigration. This book––at its core––is not about immigration at all. This book is about homelessness, not in a traditional sense, but in the unsettled, unmoored psychological state that undocumented immigrants like myself find ourselves in. This book is about lying and being forced to lie to get by; about passing as an American and as a contributing citizen; about families, keeping them together, and having to make new ones when you can't. This book is about constantly hiding from the government and, in the process, hiding from ourselves. This book is about what it means to not have a home.
After 25 years of living illegally in a country that does not consider me one of its own, this book is the closest thing I have to freedom."
—Jose Antonio Vargas, from Dear America
Praise for Dear America: Notes of an Undocumented Citizen
"An engaging read, and a deeply moving memoir of coming of age with the odds stacked against you and not only forging a remarkable life for yourself, but becoming a voice for transformation and cultural change." — San Francisco Chronicle
"The moments when Vargas describes how profoundly alienated he feels from his own family ate the most candid and crushing parts of the book....Dear America is a potent rejoinder to those who tell Vargas he's supposed to 'get in line' for citizenship, as if there were a line instead og a confounding jumble of vague statues and executive orders." — New York Times
"In Dear America, we get to know a young Vargas who was constantly told to stay in the shadows but whose tenacity and devotion had other plans for him." — Los Angeles Magazine
"Vargas writes with a newspaper reporter's spare, forceful prose, but he's searching and highly introspective." — Mother Jones
"[Dear America] is the voice of one man balancing between the poles of his identity. No matter one's status, that's something everyone can relate to." — Providence Journal
"[A] stirring, soulful, and ultimately damning autobiography." — AV Club
"A thought-provoking, moving, and highly personal memoir of Vargas's struggle to belong. Recommended for all readers interested in immigration issues and American identity." — Library Journal
"Excruciatingly timely. . . .Vargas' frank and fearless voice thoughtfully and intentionally challenges readers to confront the call for action at the heart of this book; the urgent need for "a new language around migration and the meaning of citizenship." — Booklist (starred review)
"A clarion call for humanity in a time of unprecedented focus on the 11 million people living in America without a clear path to citizenship. Vargas writes passionately about the undeniable intersection between race, class, and immigration and traces the bitter history of American immigratin policy." — BookPage
"Jose Antonio Vargas's eloquent and emotional book bears witness to a basic truth: we should not be defined by our legal status, but by who we are...His voice is an important voice that needs to be heard by all Americans, whether they are Americans by birth or by choice." — Sheryl Sandberg, #1 New York Times bestselling author of Option B and Lean In
"This riveting, courageous memoir ought to be mandatory reading for every American...The pressing question from these pages isn't whether Jose deserves to be a citizen but whether we, as a nation, deserve the bravery and generosity of spirit that he offers us with an open heart and mind."  — Michelle Alexander, New York Times bestselling author of The New Jim Crow
"Dear America is a daring and honest book that perhaps so many undocumented citizens wish they could write, about what is gained and lost by living in the "shadows"...You may not know where he will be when you read this book, but his story will stay with you always."  — Edwidge Danticat, award-winning author of Brother, I'm Dying
"[Dear America] couldn't be more timely and more necessary...a deeply personal and multilayered story told so gently and with such affection and humor." — Dave Eggers, New York Times bestselling author of What Is the What and The Monk of Mokha
"This important book could not be more timely- Jose Antonio Vargas has put a human face on one of the most defining and polarizing issues of our time: immigration. Dear America is not a book about politics or policy; it is written from the very depths of the human heart." — Gilbert King, Pulitzer Prize-winning author of Devil in the Grove and Beneath a Ruthless Sun
"Read it, feel it at a gut level, and go beyond the noise of hate politics...This is a book about America.  l cried reading this book, realizing more fully what my parents endured." — Amy Tan, New York Times bestselling author of The Joy Luck Club and Where the Past Begins
"One of the most important immigration rights activists of our time, Vargas has, in this brief book, brilliantly elucidated one of our major political issues." — Henry Louis Gates, Jr., Alphonse Fletcher University Professor at Harvard University
 "Jose Antonio Vargas's powerful memoir is among many things a celebration of the millions of Americans who make immigrants like us feel at home in their country, regardless of our legal status, regardless of how much daily hostility we face. May this book cause their ranks to swell."   — Imbolo Mbue, New York Times bestselling author of Behold the Dreamers