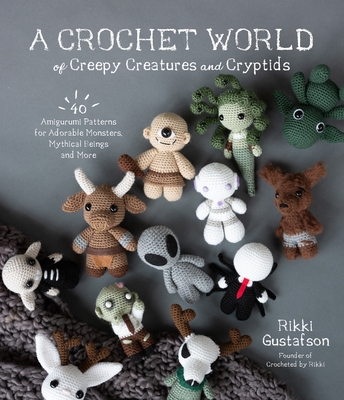 A Crochet World of Creepy Creatures and Cryptids: 40 Amigurumi Patterns for Adorable Monsters, Mythical Beings and More
Publication Date:
June 21st, 2022
Publisher:
Page Street Publishing
Usually received by store in 2-5 days.
Description
Create the Monster Menagerie of Your Dreams
Who says creepy can't be cute? With this impressive amigurumi collection you can unlock a whole new world of creatures and cryptids in all their scaryadorable glory. From classic cryptids like Cthulhu, Nessie and Mothman to paranormal paragons like Zombies, Werewolves and Nosferatu himself, there's no end to the delightful terrors you can create.
These 40 unique patterns capture each creature's quirks like the majesty of dragons' wings, Medusa's snake hair and the horror of Slender Man's tentacles. While you're creating, you can follow helpful tips on making your own colored eyes and pattern customization for color and sizing. Whether you're looking to add some spooky new additions to your own plushie collection or are hoping to surprise the horror fan in your life, there's a loveable monster in here for everyone.
Praise for A Crochet World of Creepy Creatures and Cryptids: 40 Amigurumi Patterns for Adorable Monsters, Mythical Beings and More
"I am in love with every one of these incredible designs! The detailed instructions will enable you to easily capture the cuteness of these creatures and cryptids!" —Theresa Kicher, amigurumi designer of Theresa's Crochet Shop
"Rikki succeeded in transforming all those scary monsters into the cutest possible ones! This is a must-have if you are diving into the amigurumi world!" —Isl Han, amigurumi designer of Hanis Crochet
"Full to the brim with expertly designed patterns and creative photographs, Rikki invites us into her whimsical world of amigurumi that is sure to inspire you to pick up a hook and start crocheting." —Phillip Ha, author of The Crochet Wildlife Guide