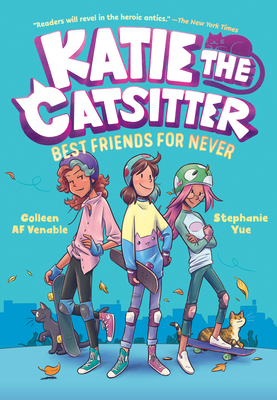 Katie the Catsitter Book 2: Best Friends for Never: (A Graphic Novel)
Publication Date:
February 15th, 2022
Publisher:
Random House Graphic
Usually received by store in 2-5 days.
This graphic novel is perfect for anyone who loves cats! I love a good superhero comic, but this one is extra special in that the line between superhero and supervillain is blurred. Katie is just trying to make enough money to attend camp, but she soon starts to speculate about what her new boss might be doing on her night shift. More than 200 cat sidekicks make this comic a purrfect read!
Winter 2020 Kids Indie Next List
Katie, the Mousetress, and those 217 crazy cats are back! This time, Katie has to contend with friendship drama while trying to be the best sidekick she can be. I can't wait for the next book in the series!
January/February 2022 Kids Indie Next List
Description
Calling all Raina Telgemeier fans! It's back to school for Katie the Catsitter in this purr-fectly irresistible graphic novel series about friendship, heroes, and cats (lots of cats)!
"Readers will revel in the heroic antics." --The New York Times
Katie loves skating with the Wheelas and the fact that she's officially a superhero sidekick. But now that school's starting, everything's changing. The Mousetress is getting blamed for things Katie knows she didn't do. Sidekick training is NOT as exciting as she'd hoped. Katie's best friend Beth is back in town and Beth's new boyfriend is always hanging around (ugh!). Not to mention that all of Katie's friends are mad at her. Fixing this will be harder than any skateboarding trick. But with the help of 217 slightly out of the ordinary cats, Katie's going to try!
Can she clear the Mousestress's name, uncover the real supervillain, and become the sidekick (and the friend) she's always dreamed of being?
Don't miss more Katie the Catsitters—Katie the Catsitter 1 and Katie the Catsitter 3: Secrets and Sidekicks!
"Readers will revel in the heroic antics." –The New York Times
Praise for Katie the Catsitter Book 2: Best Friends for Never: (A Graphic Novel)
★ "The complex yet effortless mixture of tween angst with superhero subplots is a recipe for success." –School Library Journal, starred review
Praise for the first Katie the Catsitter!
"Who can possibly resist a team of super cats? Or a wonderful kid who gets swept up in the feline drama? I loved Katie!" —Lucy Knisley, New York Times bestselling author of Stepping Stones

"A winner." —Nick Bruel, New York Times bestselling author of the Bad Kitty series

"Super fun and utterly delightful." —Gene Luen Yang, New York Times bestselling author of American Born Chinese

"Young readers will revel in the heroic antics, and older ones, like me, will be tickled by the Easter eggs strewn throughout. The sweet and funny nature of this book is expertly reflected in Yue's energetic art and seemingly effortless line work." —New York Times
★"Neko Atsume meets The Tick in this laugh-out-loud funny, well-paced series starter…Yue's expressive cartoons complement this enchanting story, the first in a series with a promising cast of characters—feline and otherwise." —Publishers Weekly, starred review
 
"A little evil and a whole lotta fun." —Kirkus Reviews
"A winsome mix of adventure, humor, and realistic middle grade problems, ideal for readers seeking the whimsy of Dav Pilkey's "Dog Man" tempered with thereassuring tone of Raina Telgemeier's work." —School Library Journal
 
"A pro-girl comic to encourage adventure, entrepreneurship, and excellent, pun-filled pet names." —BCCB
 
"Venable's twisty plot swoops gleefully around Manhattan, touching on everything from animal activism to evolving relationships to a secret rescue mission, and combining to tell the story of one of the least boring summers ever." —BookPage
"Realism and absurdity snuggle harmoniously, with such delightful dichotomies as grumpy moggy Moritz knocking over glasses as calico Jolie plays MMORPGs while donning enormous headphones." —The Bulletin
"Sight gags, sly humor, pop-culture references, and a dollop of animal-rights activism combine to make Katie's story a fun one." —Booklist