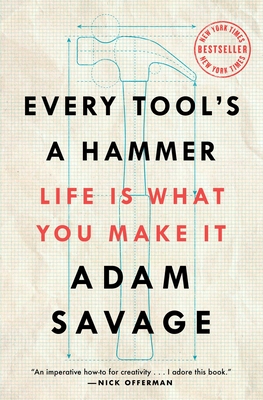 Every Tool's a Hammer: Life Is What You Make It
Publication Date:
October 27th, 2020
Usually received by store in 2-5 days.
Description
In this New York Times bestselling "imperative how-to for creativity" (Nick Offerman), Adam Savage—star of Discovery Channel's Mythbusters—shares his golden rules of creativity, from finding inspiration to following through and successfully making your idea a reality.
Every Tool's a Hammer is a chronicle of my life as a maker. It's an exploration of making, but it's also a permission slip of sorts from me to you. Permission to grab hold of the things you're interested in, that fascinate you, and to dive deeper into them to see where they lead you.
Through stories from forty-plus years of making and molding, building and break­ing, along with the lessons I learned along the way, this book is meant to be a toolbox of problem solving, complete with a shop's worth of notes on the tools, techniques, and materials that I use most often. Things like: In Every Tool There Is a Hammer—don't wait until everything is perfect to begin a project, and if you don't have the exact right tool for a task, just use whatever's handy; Increase Your Loose Tolerance—making is messy and filled with screwups, but that's okay, as creativity is a path with twists and turns and not a straight line to be found; Use More Cooling Fluid—it prolongs the life of blades and bits, and it prevents tool failure, but beyond that it's a reminder to slow down and reduce the fric­tion in your work and relationships; Screw Before You Glue—mechanical fasteners allow you to change and modify a project while glue is forever but sometimes you just need the right glue, so I dig into which ones will do the job with the least harm and best effects.
This toolbox also includes lessons from many other incredible makers and creators, including: Jamie Hyneman, Nick Offerman, Pixar director Andrew Stanton, Oscar-winner Guillermo del Toro, artist Tom Sachs, and chef Traci Des Jardins. And if everything goes well, we will hopefully save you a few mistakes (and maybe fingers) as well as help you turn your curiosities into creations.
I hope this book serves as "creative rocket fuel" (Ed Helms) to build, make, invent, explore, and—most of all—enjoy the thrills of being a creator.
Praise for Every Tool's a Hammer: Life Is What You Make It
"Adam has drawn for us an imperative how-to for creativity that goes well beyond scissors, saws, and glue, to include vulnerability, self-confidence, and self-deprecating humor. I am aware of no human outside of fiction more qualified to pen this rousing paean to making. I adore this book."
–Nick Offerman
"This book is creative rocket fuel. Adam is a master maker, and this might be his greatest creation yet - a funny, vulnerable and soulful dive into the beautiful mind of passionate artist. It's about making stuff, but there is also philosophy, insight, and, most of all, inspiration. This book is so cool!"
—Ed Helms
"Adam has stocked up a lot of deep thought and deeper wisdom: about how to make things large and small, how to make decisions large and small, and how to make sure you're making the things that matter. Consider this book as a 3-D print out of Adam's brain, and be glad you have it."
–John Hodgman, New York Times bestselling author of The Areas of My Expertise and Vacationland
"Artists, inventors, and creators of every stripe will find Savage's work inspiring and informative, while Mythbusters fans and others will savor his many amusing "making" foibles and misadventures."—Booklist
"A personal look at the importance of creativity in all walks of life." —The Verge
"The handyman dad will love this book...Adam Savage challenges readers to take a deeper look at what inspires them when it comes to 'making and molding, building and breaking' offering his own tips and tricks along the way about his favorite techniques and tools." —Oprah Magazine