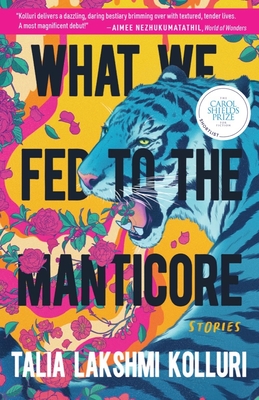 What We Fed to the Manticore
Publication Date:
September 6th, 2022
Publisher:
Tin House Books
Usually received by store in 2-5 days.
Description
Longlisted for the PEN/Robert W. Bingham Prize for Debut Short Story Collection, Aspen Words Literary Prize, and the Andrew Carnegie Medal for Fiction. Finalist for the 2023 Carol Shields Prize for Fiction.

A Ms. Magazine, Bustle, Publishers Weekly, Chicago Review of Books, Debutiful, and ALTA Journal Best Book of September
An Orion Best Book of Fall
In nine stories that span the globe, What We Fed to the Manticore takes readers inside the minds of a full cast of animal narrators to understand the triumphs, heartbreaks, and complexities of the creatures that share our world.
Through nine emotionally vivid stories, all narrated from animal perspectives, Talia Lakshmi Kolluri's debut collection explores themes of environmentalism, conservation, identity, belonging, loss, and family with resounding heart and deep tenderness. In Kolluri's pages, a faithful hound mourns the loss of the endangered rhino he swore to protect. Vultures seek meaning as they attend to the antelope that perished in Central Asia. A beloved donkey's loyalty to a zookeeper in Gaza is put to the ultimate test. And a wounded pigeon in Delhi finds an unlikely friend.
In striking, immersive detail against the backdrop of an ever-changing international landscape, What We Fed to the Manticore speaks to the fears and joys of the creatures we share our world with, and ultimately places the reader under the rich canopy of the tree of life.
Praise for What We Fed to the Manticore
A collection of fables for the 21st century.
— BOMB
Vivid and exciting.
— Debutiful
Charming.
— Philadelphia Inquirer
Deeply tender.
— The Rumpus
Set to take its rightful place among some of the best environmental fiction in recent memory.
— Chicago Review of Books
Exquisite. . . . exceptional. . . . This remarkable collection leaves an indelible mark.
— Publishers Weekly, Starred Review
Imaginative. . . . Vulnerable and hopeful, this collection is a touching read.
— Book Riot
Stupendous. . . . breathtaking. . . . remarkable.
— Booklist, Starred Review
Courageous and new.
— High Country News
Remarkable.
— Orion
Lays bare the inextricable human-animal connection.
— Seattle Times
Touching, original. . . . This one will move you.
— Ms. Magazine
Vivid.
— OC Register
Explores themes of loss, friendship, identity, and nature.
— PopSugar
Fresh observations of the world.
— Poets & Writers
Unforgettable.
— Amerie's Book Club
Kolluri's collection crosses borders to explore the inner lives of creatures.
— ALTA Journal
A singular new voice. . . .  the stories are sparkling, strange, and tender.
— Locus
Imaginative.
— Bookbrowse
A must-read for animal lovers.
— Soapberry Review
With vivid emotion and scenery, the tender and heartfelt voices show the world from different points of view that speak to the interconnectedness of people, animals, and nature.
— She Reads
Vivid, imaginative, spellbinding. . . . Kolluri's prose reads like a beautiful song as it soars over the savannah and under the sea.
— Shelf Awareness
Vivid and breathtaking. . . . deals with feelings of heartbreak and tenderness while crafting a profound message about environmentalism.
— Bookstr
Every single one of these stories is a gem. 
— So Many Damn Books
Kolluri delivers a dazzling, daring bestiary brimming over with textured, tender lives. A most magnificent debut!
— Aimee Nezhukumatathil, author of World of Wonders
What We Fed to the Manticore is a work of incredible imagination and daring, asking us to recognize the inner lives of whales, donkeys and pigeons to be as complex and deep as our own. The stories in this collection are gorgeously written and richly emotionally textured; in Talia Kolluri's hands, the familiar world we live in comes freshly to life. I looked up from the last page to find that my own world—and my heart—had become bigger.
— Claire Comstock-Gay, author of Madame Clairevoyant's Guide to the Stars
If like me, you fell in love with Fiver and Hazel and Charlotte and Wilbur as a child and have been looking ever since for stories that work that same magic—here they are. This spellbinding collection reminds us that every animal story is a human one, and every human story an animal one. These stories work like incantations.
— Ayse Papatya Bucak, author of The Trojan War Museum: and Other Stories
The voicing of other species is an ancient, vulnerable, and utterly human practice. For millennia, we've placed our stories inside non-human animals not only to celebrate these creatures, but to see the ways our own natures bend and twist in a new set of stripes. The fiction in this deft collection proves that what we call 'humanity' exists within a menagerie of other beings, but it also showcases the mind of the one human animal regaling us with her singular wit and wonder. How lovely to get to know a storyteller like Talia Lakshmi Kolluri while she winks at us from inside the minds of a tiger, a vulture, a donkey, a whale.
— Elena Passarello, author of Animals Strike Curious Poses