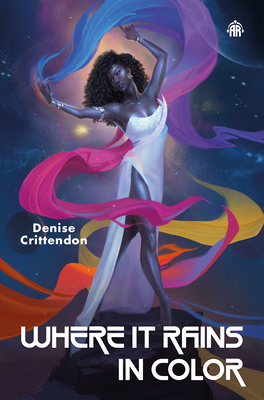 Where it Rains in Color
Publication Date:
December 6th, 2022
Usually received by store in 2-5 days.
Description
Lileala has just been named the Rare Indigo – beauty among beauties – and is about to embrace her stardom, until something threatens to change her whole lifestyle and turn the planet of Swazembi upside down.
--
Colonized by the descendants of Earth's West African Dogon Tribe, the planet of Swazembi is a blazing, color-rich utopia and famous vacation center of the galaxy. No one is used to serious trouble in this idyllic, peace-loving world, least of all the Rare Indigo.
But Lileala's perfect, pampered lifestyle is about to be shattered. The unthinkable happens and her glorious midnight skin becomes infected with a mysterious disease. Where her skin should glisten like diamonds mixed with coal, instead it scabs and scars. On top of that, she starts to hear voices in her head, and everything around her becomes confusing and frightening.
Lileala's destiny, however, goes far beyond her beauty. While searching for a cure, she stumbles upon something much more valuable. A new power awakens inside her, and she realizes her whole life, and the galaxy with it, is about to change…
File Under:  Science Fiction [ True Colors | Embrace the Change | What Will Be | Dancing in the Rain ]
Praise for Where it Rains in Color
"Outer space royalty literally glitter in the first book to come out of Angry Robot's 2020 Black Lives Matter Acquisition period. ."
– Den of Geek
"The world building here is lush and full of Dogon mythology, making you feel like a world you'd want to get lost in. This is an Afrofuturist tale that will have you rethinking how you see beauty." 
– Book Riot
"A thrilling, accessible and endearingly hopeful novel, Where it Rains in Color is an uplifting read and an important addition to the Afrofuturist genre." 
– ETHEREA SFF Australian magazine
"Largely a statement about black women and their collective self-image, the novel contains messages of empowerment."
– BLAC Detroit magazine     
"A remarkable, literary achievement. The land of Swazembi sparkles."    
– Pulse Beat Media/910 am Superstation WFDF 
Where it Rains in Color is a great novel...the universe painted is amazing.
– Reddit Fantasy
"A technicolor Afrofuturist fever-dream of a book. Debut author Denise Crittendon has created a world and characters that are deep and weird, rich and beautiful, fully human and far beyond."
– R.W.W. Greene, author of The Light Years
"A beautiful, expansive new world."
– Publishers Weekly
"Mysteries lurk beneath the candy-colored surface of this novel, just as they do on Swazembi, the richly detailed and marvelously inventive setting of this luminous tale. A captivating story about trusting received wisdom, challenging the status quo and owning one's power. I loved it."
– Khan Wong, author of The Circus Infinite