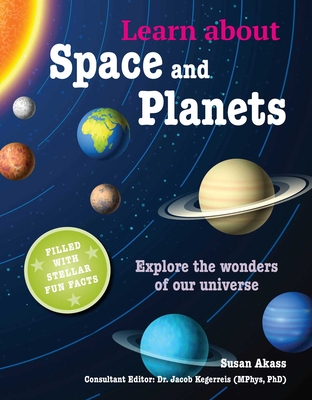 Learn about Space and Planets: Explore the wonders of our universe
Publication Date:
November 23rd, 2021
Description
How far away is the sun? What is a shooting star? Why is there life on Earth? Learn the answers to these questions and more in this fun and fact-filled guide to our universe, the solar system, and natural phenomena like life and gravity.
In this awesome guide, discover how to become an astronomer by studying the Sun, Moon, and stars in our galaxy, as well as learning about the terrains of different planets (did you know that there are volcanoes known as pancake domes found only on Venus?!). As well as up-to-date information and mind-boggling facts, Learn about Space and Planets is full of step-by-step activities and experiments you can do at home, to help illustrate the science right in front of your eyes! How would you fancy creating an exploding volcano, or seeing how craters are made using flour, chocolate powder, and sprinkles? Enjoy learning all about space and planets, and be prepared to have your mind blown!