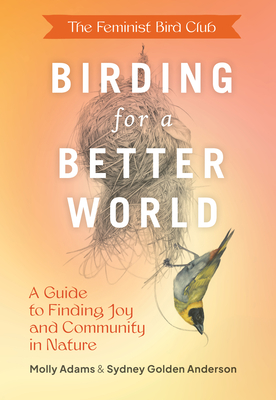 The Feminist Bird Club's Birding for a Better World: A Guide to Finding Joy and Community in Nature
Publication Date:
September 5th, 2023
Publisher:
Princeton Architectural Press
Usually received by store in 2-5 days.
Description
"Through the Feminist Bird Club, Molly Adams and Sydney Golden Anderson have walked the walk of inclusive birding; in Birding for a Better World, they talk the talk—this book got me to examine overlooked injustices, in and out of birding."
—Christian Cooper, author of Better Living Through Birding and host/consulting producer of National Geographic's Extraordinary Birder TV show
 
"It's a beautiful package for a beautiful idea: that a shared love of birds could also be a collective learning experience in social and ecological justice." 
– Jenny Odell, author of How to Do Nothing: Resisting the Attention Economy
A celebration of birding as an inclusive activity for everyone, from organizing members of the Feminist Bird Club.
Birding is for everyone. That is the sentiment on which the Feminist Bird Club (FBC) was founded in 2016 and the spirit that is celebrated in this original and timely book. In these pages, Molly Adams, FBC founder, and Sydney Golden Anderson offer readers:
A celebration of birding and the outdoors
Examples of how inclusive, affirming, and joyful an activity birding can be
Awareness of the crucial inclusivity issues facing birding communities today
Related ideas for radical inclusivity and how to break down barriers around birding for marginalized communities
Information on the ecological challenges facing birds and all life on earth including habitat loss and warming temperatures
Actionable steps everyone can take toward environmental justice
Journaling prompts throughout to offer moments of self-reflection
Ninety original illustrations from the FBC community
The Feminist Bird Club's Birding for a Better World illustrates how anyone can engage in the universally available activity of birding, and support equity and environmental justice at the same time, making an excellent gift or self-purchase for seasoned birders and beginners alike, as well as for nature lovers, social justice activists, and anyone seeking actionable information about accessibility and inclusivity in the birding community.
Praise for The Feminist Bird Club's Birding for a Better World: A Guide to Finding Joy and Community in Nature
"When Molly Adams and Sydney Golden Anderson say that birding is for everyone—they mean: everyone. But is birding also an act of justice? Birding begins by opening our eyes and our hearts to other lives—lives not exactly like ours, and that is the greatest thing we can learn to do. So yes, this book helps you see birds. But it also helps you see: everyone. Enjoy the new journey. It's beautiful."
—Carl Safina, author of Beyond Words and Becoming Wild
"A superb and moving call—to—action for those who want to be the change they've been hoping for in our world."
—Tammah Watts, M.A., LMFT, author of KEEP LOOKING UP: Your Guide to the Powerful Healing of Birdwatching
"A generous, imaginative and inclusive birding book that's about so much more. A beautiful gift to the birding world and the idea of true community."
—Jeff Vandermeer, New York Times bestselling author of Annihilation
"Compassionate, conscientious, and deeply accessible, Birding for a Better World is a guidebook to birding with care for all living beings. Adams and Anderson easily demystify the myths that can gatekeep the world of birding—for example, I learned I could bird while sitting down, without fancy binoculars or any binoculars, and appreciate the wonder of an unfamiliar birdsong or even the familiar flutter of a pigeon. This book made me strive to be a better person, for people and for birds, and work towards a future where we can all flourish together."
—Sabrina Imbler, author of How Far the Light Reaches and writer at Defector Media
"Through the Feminist Bird Club, Molly Adams and Sydney Golden Anderson have walked the walk of inclusive birding; in Birding for a Better World, they talk the talk, sharing how we all can do likewise. I hesitate to use a potentially ableist 'walk' metaphor—and that just shows how this book got me to examine overlooked injustices, in and out of birding."
—Christian Cooper, author of Better Living Through Birding and host/consulting producer of National Geographic's Extraordinary Birder TV show
"Thoughtfully crafted, thought—provoking, and spectacularly illustrated, this book will make birding more inclusive and, ultimately, much more fun."
—Rosemary Mosco, creator of Bird and Moon Comics and author of A Pocket Guide to Pigeon Watching
"I'll never forget the two young women of color who came to a book event of mine and told me I'd inspired them to go birding, but also that the organized field trip they went on was so alienating they weren't sure they would return. This book is for them, and for all of us. It's a beautiful package for a beautiful idea: that a shared love of birds could also be a collective learning experience in social and ecological justice." 
—Jenny Odell, author of How to Do Nothing: Resisting the Attention Economy