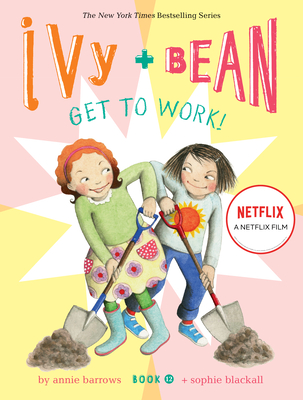 Ivy and Bean Get to Work! (Book 12) (Ivy & Bean #12)
Publication Date:
April 6th, 2021
Publisher:
Chronicle Books
Usually received by store in 2-5 days.
Description
A Netflix Original Film Series
A New York Times Bestselling Series
Over 8 Million Copies Sold
Ivy and Bean go searching for treasure in Book 12—the final story in the New York Times bestselling early chapter book series!
It's Career Day at Emerson Elementary School, and all the students have to choose what they want to be when they grow up. No problem. Best friends Ivy and Bean already have that all figured out. At least, they thought so, until they met Herman the Treasure Hunter. Now everyone in the second grade is looking for treasure—and finding it. Everyone except Ivy and Bean, that is. They need to get out their shovels and turn up some treasure on the double!
• A laugh-out-loud adventure
• Bestselling series—more than 6 million copies sold!
• From beloved author Annie Barrows and award-winning illustrator Sophie Blackall
Ivy and Bean make Career Day—and every day—so much fun with their mischievous antics.
• Children's books for kids age 6–9
• Great early chapter book series for boys and girls
• Perfect for fans on the Judy Moody, Dory Fantasmagory, and Clementine series
Praise for Ivy and Bean Get to Work! (Book 12) (Ivy & Bean #12)
"The twelfth (and final) book about Ivy and Bean finds these best friends still in second grade but hurtling toward their futures by way of career day at school. . . . Blackall's spot art captures the fervor and diligence of the friends. . . [N]ew readers will find funny situations and a fast-moving plot to enjoy."-The Horn Book Magazine
"Many of the children who read the first Ivy + Bean book as second graders in 2006 are now, unbelievably, college graduates. But the series has remained fresh and relevant, offering a perfect first dip into chapter books for a whole new generation of readers. Like the others in the series, this effort combines Barrows' nicely developed characters and her hilarious, easy-to-read take on juvenile adventures with Blackall's spot-on Chinese ink illustrations on every spread, with purely delightful results. . . . [Ivy and Bean Get to Work is t]he final, delicious entry in a much-loved series."-Kirkus Reviews, starred review
"Grounded in everyday details of primary-grade children's experiences, Barrows' amusing narrative is just right for the audience. Blackall's expressive black-and-white illustrations brighten every double-page spread while clarifying terms such as divining rod. The twelfth volume in the dependable Ivy and Bean series delivers an engaging story for kids moving up to chapter books."-Booklist 
"Second-grade besties and neighbors Ivy and Bean get their last hurrah in the final installment of this 12-book series that captivates beginning readers with the girls' mischievous antics. In true Ivy and Bean fashion, their last adventure together-searching for buried treasure-starts off on the wrong foot but ends spectacularly. Young fans come away with food for thought about what really makes something highly coveted. Dare we say these stories qualify?"-Parents Magazine
The adventures that began with "Ivy and Bean" arrive at a rumbustious conclusion with Ivy Bean Get to Work!. Written by Annie Barrows and illustrated by Sophie Blackall, the 12 books in this series for readers ages 6-10 sparkle with humor and smart observations. . . . There's a saying that you can't make old friends, but in the case of children's books it's not true. Returning to characters you've met once, it feels as though you've known them forever. Nice, isn't it?"-The Wall Street Journal
"As always, Barrows' concise, clever text captures a child's voice and perspective. . . . This accessible story will appeal to children ready for short chapter books and will work equally well read aloud. Depicting a diverse classroom of distinctive students, Blackwell's signature black-and-white illustrations break up the text and bring Barrows' characters to life. Though this is the 12th in the series, it stands on its own. . . This funny, engaging story is an excellent addition to all libraries, and a must for those stocking the series."-School Library Journal