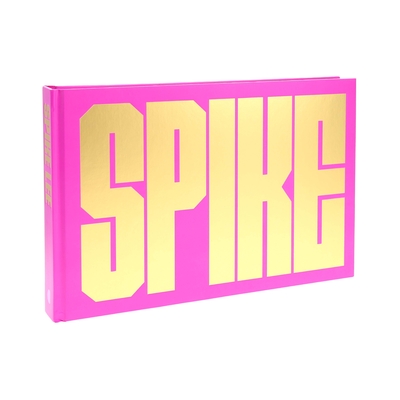 SPIKE
Publication Date:
November 17th, 2021
Publisher:
Chronicle Chroma
Usually received by store in 2-5 days.
Description
A career-spanning monograph, SPIKE is a visual celebration of acclaimed filmmaker Spike Lee's life and work to date.
Spike Lee is a world-renowned, Academy Award-winning filmmaker, a cultural icon, and one of the most prominent voices on race and racism for more than three decades. His prolific career has included over 35 films, including his directorial debut She's Gotta Have It (1986), his seminal masterpiece Do the Right Thing (1989), and his Oscar-winning film BlacKkKlansman (2018). Spike Lee's provocative feature films, documentaries, commercials, and music videos have shone the spotlight on significant stories and have made an indelible mark in both cinematic history and in contemporary society.
Featuring hundreds of never-before-seen photographs by David Lee, Spike's brother and long-time still photographer, this comprehensive monograph includes behind-the-scenes, insider images that underscore his creative process and his significant impact on the culture at large. Also included here are his beloved commercials with Michael Jordan for Nike, which helped launch the billion-dollar Jordan brand product empire, as well as his music videos with Prince and Michael Jackson. From earlier films like the critically acclaimed Malcolm X (1992) starring Denzel Washington, to more recent films such as Da 5 Bloods (2020) featuring the late Chadwick Boseman, Spike Lee's work continues to resonate now more than ever.
STRIKING DESIGN: Featuring gold foil deboss on a vibrant fuchsia front cover, SPIKE boasts a bold and beautiful, eye-catching design. The custom blocky, typographic design is inspired by the LOVE/HATE brass rings that Radio Raheem wore in Do the Right Thing and that Spike wore at the 2019 Academy Awards.
GIFT FOR CINEMA LOVERS: This is a must-have collector's item and ideal gift for any cinephile and fan of one of the most prominent and influential filmmakers in history.
 
"Technically, SPIKE is a film-by-film study of the director's career. But it's hardly stuffy. It's a visual joy with choice comments from the man himself."—The New York Times
 
"SPIKE is a hefty, glossy compendium of the still-unfolding career of one of cinema's most clarion voices."—Associated Press
Perfect for:
Film buffs and fans of Spike Lee's work
Collectors of artfully designed monographs and coffee table books
Fashionistas, music lovers, and pop culture fanatics
Praise for SPIKE
"Spike Lee is one of the great movie stylists of his time—or any time. Not only do his movies have an inimitable look, but Lee has a natural sense for fashion, never mind true skill as commercial ad man. This book does justice to Lee's inimitable visual style. It's a beaut." —Esquire
"SPIKE is a hefty, glossy compendium of the still-unfolding career of one of cinema's most clarion voices. It's also an intimate story of family, with siblings on both sides of the camera: Spike as seen through his brother's lens." —Associated Press
"Technically, SPIKE is a film-by-film study of the director's career. But it's hardly stuffy. It's a visual joy with choice comments from the man himself."—The New York Times
"This should absolutely make the case for why he is one of the most important American filmmakers of this or any age."—David Lee
"For the first time, Spike Lee's film career is captured in a retrospective coffee table book"—New York Daily News
"Spike Lee's first career-spanning book is a visual celebration of his life and career to date."—Fast Company
"He's a voice of reason, an advocate, a pioneer, and above all, a storyteller, whether with his motion pictures, commercials, music videos, or his book, SPIKE. Spike Lee has always used his artistry to paint these beautiful pictures of people of color at a time when there were not a lot showcasing the Black experience in America."—V Magazine
"This gorgeous coffee-table book offers a behind-the-scenes look at the prolific director's most iconic work."—Entertainment Weekly
"SPIKE is a big, bold powerhouse."—The Film Stage
"SPIKE features film stills, never-before-seen photographs, and Lee's own commentary on all of the director's movies, from his 1986 debut She's Gotta Have It to 2020's Da 5 Bloods."—Rolling Stone