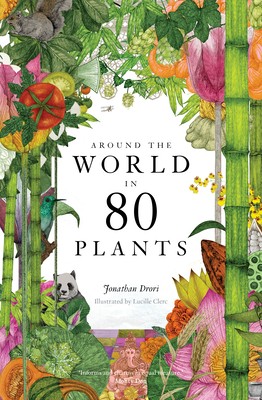 Around the World in 80 Plants
Publication Date:
April 20th, 2021
Publisher:
Laurence King Publishing
Usually received by store in 2-5 days.
Description
An inspirational and beautifully illustrated book that tells the stories of 80 plants from around the globe.
In his follow-up to the bestselling Around the World in 80 Trees, Jonathan Drori takes another trip across the globe, bringing to life the science of plants by revealing how their worlds are intricately entwined with our own history, culture and folklore. From the seemingly familiar tomato and dandelion to the eerie mandrake and Spanish "moss" of Louisiana, each of these stories is full of surprises. Some have a troubling past, while others have ignited human creativity or enabled whole civilizations to flourish. With a colorful cast of characters all brought to life by illustrator Lucille Clerc, this is a botanical journey of beauty and brilliance.
Praise for Around the World in 80 Trees
"Beautiful to behold and to read" – THE SUNDAY TIMES
"An arboreal odyssey" – NATURE
"One of the most quietly beautiful books of the year" – DAILY MAIL
"Jonathan Drori's deep-seated love of nature is contagious in this tree-by-tree journey across countries and continents. A book to take your time over" – WIRED
"A brilliant blend of science, history, culture and folklore, this interesting and engaging book explores the relationship between people and trees as it circumnavigates the globe. The quietly passionate writing is informative, interesting and quite delightful. The hardback version, which I've got, is one of the best-produced books I've read in years: the formatting is crisp and inviting, the paper is heavy and of high quality, and almost every page includes color drawings by artist Lucille Clerc that are simply breathtaking. Together, these features make this book a joy to touch, to hold and to read." – FORBES
Praise for Around the World in 80 Plants
"Around the World in 80 Plants is a beautifully illustrated, general interest book that will readily absorb readers with lively and witty snapshots of edible, ornamental, medicinal, toxic, or archetypal plants from every continent." - Plant Science Bulletin
"This plant refernce has all the perfect descriptors; it's charming, erudite, educational, and aesthetically pleasing...Readers will pick Plants up, time and again, in observation and wonder." - Booklist
"With a colorful cast of characters all brought to life by illustrator Lucille Clerc, Around the World in 80 Plants is a botanical journey of beauty and brilliance." -The Environmental Magazine
"Brings to life the history, uses and botanical properties of weird and wonderful plants from across the globe." -Newsweek,
"Drori, like an expert tour guide, offers up plenty of tidbits and trivia that make even the quotidian seem worthy of notice. Whether you take in all this information in one sitting, or savor a page a day before bedtime, Drori's smartly crafted itinerary is a trip well worth taking." -Natural History Magazine,
"This stunning illustrated book is a treasure... The fun facts paired with colorful illustrations make this something to truly lose yourself in." -Greatlist
"Takes readers on a journey across our planet, stopping to smell flowers and appreciate other species along the way." -Smithsonian Magazine,
"Drori, like an expert tour guide, offers up plenty of tidbits and trivia that make even the quotidian seem worthy of notice… Whether you take in all this information in one sitting, or savor a page a day before bedtime, Drori's smartly crafted itinerary is a trip well worth taking." -Natural History Magazine,