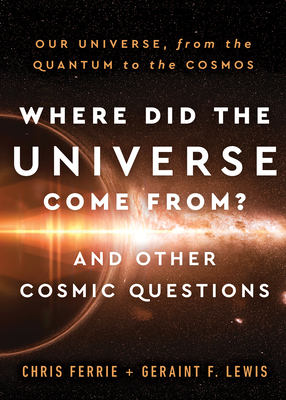 Where Did the Universe Come From? And Other Cosmic Questions: Our Universe, from the Quantum to the Cosmos
Publication Date:
September 7th, 2021
Usually received by store in 2-5 days.
Description
Go on an awe-inspiring journey, unraveling the secrets of our universe from the tiniest particles to the vastness of space
In this thought-provoking exploration, physicists Chris Ferrie and Geraint F. Lewis delve into the fundamental questions that have puzzled humanity for centuries. What sparked the birth of the universe? How did matter and energy come into existence? With clarity and precision, Ferrie and Lewis navigate the realms of quantum physics, relativity, and cosmology, providing accessible explanations that engage both novices and enthusiasts.
Featuring a harmonious blend of scientific rigor and captivating storytelling, Where Did the Universe Come From? bridges the gap between complex concepts and everyday understanding. 
Readers will:
Explore the origin of the universe and the fundamental forces that govern it.
Dive into the mind-boggling realm of quantum mechanics and its implications on the cosmic scale.
Uncover the mysteries of black holes, dark matter, and the enigmatic nature of the cosmos.
Enjoy an engaging narrative that seamlessly integrates complex scientific concepts with accessible explanations.
Whether you're an astrophysics enthusiast, a science student, or simply someone with a profound interest in the wonders of the universe, this comprehensive guide offers a rich tapestry of knowledge about the captivating wonders that surround us all.
Praise for Where Did the Universe Come From? And Other Cosmic Questions: Our Universe, from the Quantum to the Cosmos
"A comprehensive but accessible tour of what we know about our amazing universe, which addresses the big questions about its origin and ultimate fate, and is suitable for anyone with curiosity, from 9 to 109." — Marcus Chown, author of Infinity in the Palm of Your Hand
"With questions that bring together quantum physics and cosmology, this book's answers offer a unique and engaging slant on science at the very largest and very smallest scales. You'll never look at the universe the same way again." — Chad Orzel, international bestselling author of Breakfast with Einstein and How to Teach Quantum Physics to Your Dog
""Where Did the Universe Come From? is one of the most accessible summaries of the present state of cosmology on the market." — Booklist" — Booklist