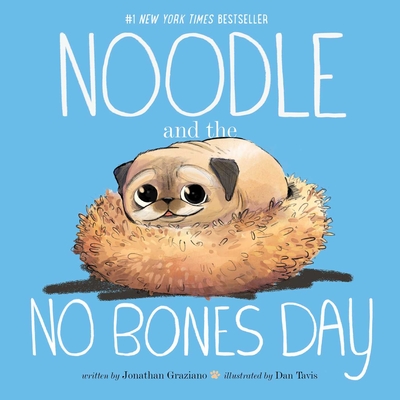 Noodle and the No Bones Day (Noodle and Jonathan)
Publication Date:
June 7th, 2022
Publisher:
Margaret K. McElderry Books
Usually received by store in 2-5 days.
Description
An instant #1 New York Times bestseller!
From the creator of the viral "Bones or No Bones" TikTok videos comes a sweet and entertaining picture book following Noodle the pug and his human as they navigate Noodle's first No Bones Day—a day for being kind to yourself!
Noodle is a sweet, silly old pug who enjoys doing all his favorite activities with his favorite human, Jonathan. But one day when Jonathan goes to take Noodle on his morning walk, he finds Noodle still comfortable in bed. When Jonathan lifts Noodle up, Noodle just flops over. It's almost like Noodle woke up without any bones!
Noodle isn't sick or sad—but he also isn't interested in going for walks or sitting outside (he will accept snacks, though). Today, all he needs are extra snuggles and belly rubs. Jonathan soon learns that not every day can be a Bones Day, and sometimes a No Bones Day is exactly what you need to get through the week.
About the Author
Jonathan Graziano is a Rochester native who currently resides in New York City. His eternal muse, Noodle, continues to inspire him each and every day. It is Jonathan's hope that through this story he can continue Noodle's legacy of spreading joy and kindness and encourage others to adopt and/or rescue a senior pet next time they're looking to add a new member to their family. You can find Jonathan on TikTok at @JonGraz.
Dan Tavis is illustrator living in New Hampshire. He has been doodling ever since his first math class in elementary school! He is the New York Times bestselling illustrator of Noodle and the No Bones Day, Common Critters, and Fluffy McWhiskers Cuteness Explosion, among other projects. Learn more at DanTavis.com.