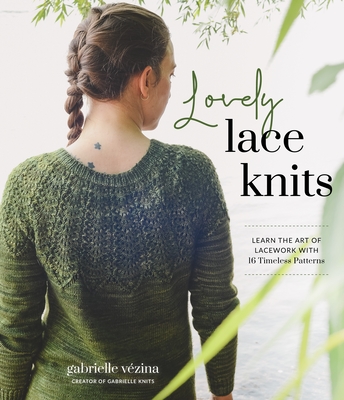 Lovely Lace Knits: Learn the Art of Lacework with 16 Timeless Patterns
Publication Date:
March 21st, 2023
Publisher:
Page Street Publishing
Usually received by store in 2-5 days.
Description
Knit Beautiful Garments and Accessories for Every Season with Delicate, Open Stitchwork
Let luxurious lacework knitting bring you on a mindful journey as you cast on this collection of gorgeous knitwear! For anyone who has ever been intimidated by the intricacies of knitting lace, allow designer Gabrielle Vézina to teach you all you need to know to successfully tackle this timeless technique. With Gabrielle's extensive knowledge at your disposal, including essential wisdom for choosing the ideal yarn and needles, correcting mistakes with ease and using lifelines to keep your hard work from unraveling, lace knitting beginners will feel confident casting on every project in this book. And if lacy patterns are already your bread and butter? You will be absolutely enthralled by the exquisite variety of designs that await you!
From small, weekend projects with thoughtful stitch patterns, like the Cedar Hat and Mittens or Lyrebird Socks, to awe-inspiring garments that will have you turning heads, like the Amarelle Sweater or Pinnate Tank Top, there is something here for every one of your lace-knit dreams. No matter which design you choose to make first, you'll soon be looking lovely in lace.
Praise for Lovely Lace Knits: Learn the Art of Lacework with 16 Timeless Patterns
"We are great fans of Gabrielle's whimsical knitting patterns! Her latest book beautifully showcases her creativity and skill with lace design."
— Naomi Endicott and Stephanie Earp, owners of Espace Tricot
"Gabrielle's designs take you on a creative journey, making every piece something to cherish."
— Julie Asselin, founder of Julie Asselin Yarns
"Gabrielle is a fabulous designer, and her modern yet romantic patterns are perfect for the novice or advanced knitter."
— Lucinda Iglesias, founder of Mont Tricot
"With Gabrielle's patterns, expect your knitwear to have eye-catching details that make you swoon every time you see them."
— Rosemarie Tinapay, founder of Akara Yarns
"The desire to create by embracing slowness and gentleness is evident in Gabrielle's designs. I am delighted that her elegant, intricate, yet clearly explained pieces are now made accessible in Lovely Lace Knits."
— Amélie P. Bedard, founder of Émilia & Philomene
"The classic elegance of Gabrielle's designs will inspire you to pick up your needles and knit your own treasured lace creations."
— Elizabeth and Debbie Sullivan, founders of Sweet Paprika Designs
"From wardrobe staples to intricate lace, Gabrielle's designs are a pleasure to knit."
— Tiffany Assous, founder of Boutique Twistitch