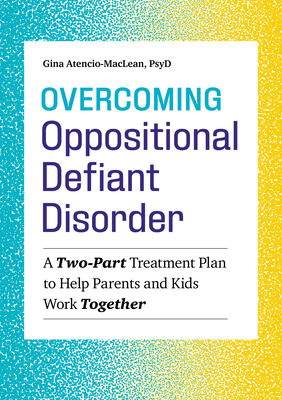 Overcoming Oppositional Defiant Disorder: A Two-Part Treatment Plan to Help Parents and Kids Work Together
Publication Date:
March 26th, 2019
Usually received by store in 2-5 days.
Description
Help Your ODD Child While Helping Yourself
Parenting a child with Oppositional Defiant Disorder (ODD) is difficult, stressful, and often overwhelming. Overcoming Oppositional Defiant Disorder is the first child psychology book that sets you up for success by recognizing that taking care of your child starts with taking care of yourself.
Using a two-pronged approach, Dr. Gina Atencio-Maclean offers proven methods for modifying your child's defiant behaviors while giving you the tools needed to stay calm and focused—even during your child's worst outbursts. Strengthen your parenting skills by learning to cope with triggers, practice mindful communication, set reasonable limits, and more.
Overcoming Oppositional Defiant Disorder includes:
A TWO-PART PLAN—Learn to recognize and manage your own heightened emotions while teaching your child to do the same.
PROVEN WAYS TO TREAT OPPOSITIONAL DEFIANT DISORDER—Find out how to introduce alternative behaviors, set boundaries, and use positive reinforcement.
STEP-BY-STEP GUIDES—Take the guesswork out of treatment with detailed instructions and sample dialogues.
Now you and your child can get through Oppositional Defiant Disorder—together.
Praise for Overcoming Oppositional Defiant Disorder: A Two-Part Treatment Plan to Help Parents and Kids Work Together
"Overcoming Oppositional Defiant Disorder is a must-read for parents seeking a real-life guide to reducing problem behaviors in their children. The author's unique, two-fold approach teaches both skills for parents' own self-care, and strategies to improve their child's behavior. As a psychologist who specializes in ODD, I am impressed with Dr. Atencio-Maclean's ability to make the cutting-edge research and intervention in this field so approachable for caregivers."—Melissa Jinariu, Psy.D., Licensed Clinical Psychologist, Adjunct Professor & Clinical Supervisor
"With Overcoming Oppositional Defiant Disorder, Dr. Atencio-MacLean has hit it out of the park. This is a practical, accessible guide for parenting children with oppositional behaviors. This is unlike any parenting book in its evidence-based, easy-to-read style, and I would wholeheartedly recommend this not to just ODD parents, but parents struggling with challenging behaviors in general. What an asset for therapists and families alike!"—Bridgette Atallah, PsyD, Licensed Clinical Psychologist Clinical Director, San Clemente Psychological Services
"Being a huge proponent of self-care in my personal and professional life, I greatly appreciated the emphasis Overcoming Oppositional Defiant Disorder places on the importance of self-care for the parents. "Taking care of yourself isn't selfish–it's a prerequisite for caring for others." I loved this quote because it highlighted the stigma that other people try to dictate how you "should" care for your child first and foremost before yourself, but she reframed it to remind people that it is not shameful to take care of yourself, too. This book is great because it is transparent and easy to follow, with creative exercises that help you relate to real-life situations by bringing you back to the basics. Dr. Atencio-MacLean does a fabulous job describing what is going on with your child. and she provides the most effective strengths-based strategies to utilize in your journey toward collaborative healing."—Candice Waltrip, PsyD, Licensed Clinical and Forensic Psychologist
"I couldn't stop reading Overcoming Oppositional Defiant Disorder, and as a psychologist myself, it gave me strength and inspiration. This brilliant and gripping book is raw, real, and true. Dr. Gina's expertise shines in a way that is warm and practical, which is true to her nature. I stayed fully engaged and intrigued while reading about this difficult topic, and it left me feeling hopeful for struggling kids and parents who pick up this gem of a book."—Lauren DeSilva, PsyD Licensed Clinical Psychologist
"Overcoming Oppositional Defiant Disorder is a fantastic resource for parents of children with a diagnosis of ODD. FINALLY, a book that acknowledges and address how difficult it can be to parent a child with this diagnosis. As a parent and a psychologist, this is my new go-to book for treating ODD! An incredible resource to help parents manage the stress they feel while trying to do their best at parenting a child with challenging behaviors. A must read for any provider who works with children diagnosed with ODD and the parents who love them. A clear, well-written, and helpful resource for parents and practitioners alike. This book moves beyond theory by offering practical, step-by-step solutions that are based in science and proven effective in treating ODD. In this book, Dr. MacLean offers effective strategies to address even the most difficult to treat behaviors seen in children with an ODD diagnosis."—Robyn Igelman, PhD, Licensed Clinical Psychologist
"I absolutely love the versatile utility of Overcoming Oppositional Defiant Disorder. Any caregiver or clinician that picks it up is certain to reap its many benefits and help the child and family they are caring for. Dr. Atencio-Maclean's writing is relatable, specific, validating, and easy to understand. I would highly recommend this book."—Lauren Franks, PsyD, Licensed Clinical Psychologist
"Overcoming Oppositional Defiant Disorder is breath of fresh air when it comes to books on child behavior and mental health. Dr. Atencio-MacLean masterfully weaves together the intricacies of this complicated disorder in a beautiful, yet practical, manner. In this book, Dr. Atencio-MacLean not only addresses the treatment of the children, but she also addresses the care of the parents and caregivers, an aspect of this diagnosis that other approaches often neglect. I will be recommending this book to my graduate students as well as my clients."—Andrés Chou, PsyD, Licensed Clinical Psychologist, Assistant Professor of Clinical Psychology, Fuller School of Psychology
"If you parent a difficult child, Overcoming Oppositional Defiant Disorder is a must-have! Using developmental research and evidence-based interventions, this book provides guidance and practical tools for parents and families. Dr. Atencio-Maclean compassionately connects with parents and instills hope for families. Parents will walk away with a greater understanding of their child and step-by-step tools for change. As a child psychologist, professor, and supervisor, I will be strongly recommending this book to all families I work with, and to the students I teach and train."—Alana Roth, PsyD
"At last! A book on oppositional defiant disorder that adequately addresses an overlooked but extremely critical component of treatment: parental emotional regulation. ODD is treatable, but only when caregivers are properly equipped to navigate the complex emotional territory of parenting a highly reactive child. Gina Atencio-MacLean provides excellent tools for parents who are seeking to model healthy emotion regulation for their kids as they work toward building a stronger bond with their oppositional child."—Jennifer O'Connor, PhD
"Gina Atencio-MacLean's Overcoming Oppositional Defiant Disorder is an absolute game-changer when it comes to providing parents with practical, hands-on tools to address their children's challenging behavior. Dr. Atencio-MacLean writes not only as an expert who understands the clinical underpinnings of addressing ODD, but as warm and approachable clinician who maintains a positive and hopeful stance, emphasizing the strength, resilience, and abilities of kids and families coping with ODD. This book is destined to join the ranks of child psychology and behavior management classics."—Sara Olsen, LMFT
"What do you need if you're a parent struggling with a child who frequently acts out? You need support, information, and guidance presented in a straightforward, non-judgmental way. That is exactly what Gina Atencio-MacLean provides in Overcoming Oppositional Defiant Disorder. Written with compassion, humor, and expertise, Dr. Atencio-MacLean shares her practical approach to reducing kids' aggressive behaviors and increasing their pro-social skills. Her techniques are backed by research and are applicable for all parents who are interested in making positive changes in their family's day-to-day lives."—Jennifer Stinson, PhD
"Dr. Gina Atencio-Maclean's approach to the treatment of oppositional defiant disorder offers a comprehensive plan for teaching parents to not only help their child, but also to learn to help themselves. She does an excellent job at normalizing the challenges families often experience when a child has ODD. She also expertly breaks down the treatment plan into realistic and manageable steps. This unique contribution to the treatment of ODD is highly recommended for both parents and professionals!"—Noelle Deckman, PhD