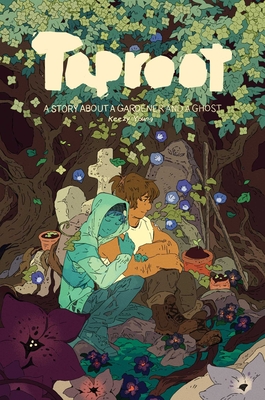 Taproot: A Story About A Gardener and A Ghost
Publication Date:
July 5th, 2022
Usually received by store in 2-5 days.
Description
"It's a pleasure to lose yourself in the beautiful artwork, and one of the loveliest queer romances I've ever read." — K. O'Neil, author of The Tea Dragon Society
Blue has been living as a ghost for a year when he meets Hamal, a beautiful and sweet gardener who has the ability to see and communicate with ghosts. Together, their friendship develops into something more, but being a ghost, Blue can never truly be connected with Hamal.
When Blue realizes Hamal's strange ability may be putting him in danger, Blue has to find a way to protect him--even if it means leaving him.
Rainbow Book List Best Graphic Novel of 2017
Powell's Books Best of 2017
The Advocate's Best LGBTQ Graphic Novel of 2017
Praise for Taproot: A Story About A Gardener and A Ghost
"Taproot is like a garden for the heart, a warm and soulful story where nature is explored in all its forms. It's a pleasure to lose yourself in the beautiful artwork, and one of the loveliest queer romances I've ever read."
— K. O'Neil, author of The Tea Dragon Society
"Taproot is a beautiful tale of how love can power us in all the best ways, make us selfless, even seek to right the wrongs and heal what's been wrecked."
— Black Nerd Problems
"Taproot approaches death with an honesty, respect, and resilience that you rarely see."
— Women Write About Comics
"This is a gorgeous and quiet story about love, hauntings, and things that grow."
— Powell's Books (Staff Pick)