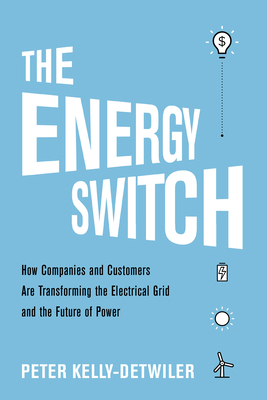 The Energy Switch: How Companies and Customers Are Transforming the Electrical Grid and the Future of Power
Publication Date:
June 15th, 2021
Publisher:
Prometheus Books
Usually received by store in 2-5 days.
Description
The energy industry is changing, and it's far more than just solar panels. Electric vehicles look to overtake gasoline-powered cars within our lifetimes, wind farms are popping up in unlikely places, traders are transforming energy into a commodity, and supercomputers are crunching vast amounts of data in nanoseconds while helping to keep our energy grids secure from hackers.
The way humans produce, distribute and consume power will be cleaner, cheaper, and infinitely more complex within the next decade. In The Energy Switch, leading energy industry expert Peter Kelly-Detwilerlooks at all aspects of the transformation: how we got here, where we are going, and the implications for all of us in our daily lives.
Kelly-Detwiler takes readers to the frontlines of the energy revolution. Meet Steve Collins, an executive from Commercial Development Corporation, the company that blew up two $570-million-dollar concrete cooling towers to create a staging ground for the new $70 billion U.S. offshore wind industry; Rob Threlkeld, a General Motors executive who convinced the auto giant to sign multiple 20-year renewable energy contracts worth hundreds of millions; Kevin McAlpin, a Texas homeowner who buys the power for his home on the electricity spot market - where prices can soar from less than one cent a kilowatthour to $9.00 over the course of a single day; Dr. Kristin Persson, who oversees a supercomputer that can process data at 30 quadrillion calculations per second, in the quest for better renewable energy and battery technologies; and John Davis, a Texas rancher who can keep his land intact, with help from the royalty payments from seven turbines spinning on his range.
Energy creation and distribution has driven society's progress for centuries. Today, people are increasingly aware that it is imperative that humans move towards a cleaner, digitized, and democratized energy economy. The Energy Switch is about that multi-trillion dollar transformation, told from the perspective of those leading us to that bright future.