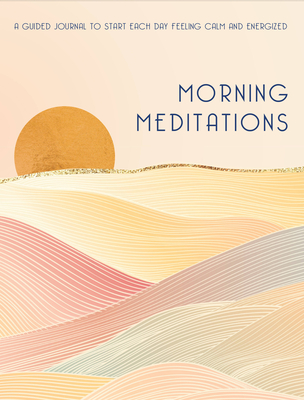 Morning Meditations: A Guided Journal to Start Each Day Feeling Calm and Energized
Publication Date:
February 8th, 2022
Backordered, expect longer than usual fulfillment time.
Description
Begin your day with Morning Meditations, with reflective meditations and thoughtful journal prompts for every season paired with serene landscape art to get you on the path of mindfulness.
Though it can be easy to get caught up in the fast-paced world throughout the year, Morning Meditations encourages you to be present and mindful of every thought. With this beautiful book, you can start each day focused and prepared to take on anything.
Morning Meditations will help you create a peaceful and purposeful mindset, giving you the freedom to feel calm and think reflectively as you begin to understand your thoughts each morning through this mindful routine. With prompts for Spring, Summer, Fall, and Winter, this guide is perfect for everyone—from those picking up their first mindful practice to long-time followers.
Some prompts include:
Spring – What things in your life do you need to examine more closely today?
Summer – In what ways are you growing, both inward and outward?
Fall – How will you receive peace today?
Winter – Describe the things about yourself that you are glad to have.
The Everyday Inspiration Journals series has a guided journal for every self-improvement journey. Whatever your personal goal, whether it is to incorporate more positivity into your life, or to slow down and find calm, or to hone your spell-building craft, or something else, you will find in this series an elegant journal in which you can record your thoughts, aspirations, and progress. With a simple, easy-to-follow structure, each journal is filled with powerful prompts and helpful trackers to illuminate your way.
Also available from the Everyday Inspiration Journal series:
Astrological Self-Care Journal
Be Happy: A Journal
Beautifully Brave Journal
Calm Your Anxiety Journal
Essential Dream Journal
Everyday Calm: A Journal
Find Your Mantra Journal
Finding Gratitude: A Journal
Healing Burnout
Self Care Journal
Spellcraft