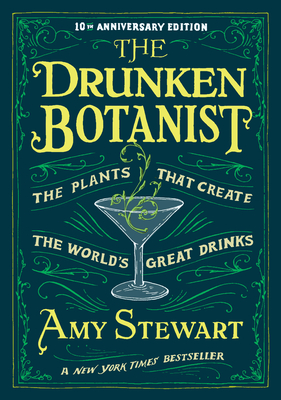 The Drunken Botanist: The Plants that Create the World's Great Drinks: 10th Anniversary Edition
Publication Date:
March 19th, 2013
Publisher:
Algonquin Books
Usually received by store in 2-5 days.
Description
The New York Times-bestselling guide to botany and booze celebrates its 10th anniversary with an updated edition—now including a guide to planting your very own cocktail garden to go with more than fifty drink recipes. This fascinating, go-to text about the plants that make our drinks is the ideal gift book for every cocktail aficionado, the perfect drinks book for every plant-lover.
Sake began with a grain of rice. Scotch emerged from barley, tequila from agave, rum from sugarcane, bourbon from corn. Thirsty yet?  In The Drunken Botanist, Amy Stewart explores the dizzying array of herbs, flowers, trees, fruits, and fungi that humans have, through ingenuity, inspiration, and sheer desperation, contrived to transform into alcohol over the centuries.
Of all the extraordinary and obscure plants that have been fermented and distilled, a few are dangerous, some are downright bizarre, and one is as ancient as dinosaurs—but each represents a unique cultural contribution to our global drinking traditions and our history.
This charming concoction of biology, chemistry, history, etymology, and mixology—with delightful drawings, tasty cocktail recipes, and fun factoids throughout—will make you the most popular guest at any cocktail party. 
"A book that makes familiar drinks seem new again . . . Through this horticultural lens, a mixed drink becomes a cornucopia of plants."—NPR's Morning Edition
"Amy Stewart has a way of making gardening seem exciting, even a little dangerous." —The New York Times
 
Praise for The Drunken Botanist: The Plants that Create the World's Great Drinks: 10th Anniversary Edition
"Amy Stewart has a way of making gardening seem exciting, even a little dangerous."—The New York Times
"Many boozy books have been published over the years, spilling over with fun facts about absinthe, grog and bathtub gin. What makes Stewart's book different is her infectious enthusiasm for the plants, their uses, their history, and the botanists who roamed the earth finding them. The result is intoxicating but in a fresh, happy, healthy way."—USA Today
"The Drunken Botanist is a sipping book, not a quaffing book, best enjoyed in moderation...Part Ripley's Believe It or Not, part compendium on the order of 'Schott's Original Miscellany' and part botanical garden tour, albeit with a curated cocktail party at the end . . . a companionable reference and whimsical recitation of historical-botanical trivia, with a little tart debunking."—The Washington Post
"Sipping an evening cocktail while flipping through this fine volume, I discovered that Ms. Stewart knew how to change a run-of-the-mill cocktail into an intriguing one."—The Wall Street Journal
"A book that makes familiar drinks seem new again…Through this horticultural lens, a mixed drink becomes a cornucopia of plants."—NPR's Morning Edition
"Fascinating, well researched and instructive — with appealing recipes too."—Rosie Schaap, The New York Times
"Gardening can be an intoxicating hobby, especially if the botany is booze-related."—The Associated Press