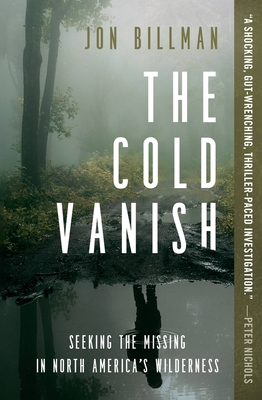 The Cold Vanish: Seeking the Missing in North America's Wilderness
Publication Date:
July 6th, 2021
Publisher:
Grand Central Publishing
Usually received by store in 2-5 days.
Description
Perfect for readers of Jon Krakauer and Douglas Preston, this "authentic and encyclopedic" book examines real-life cases of those who vanish in the wilderness without a trace (Roman Dial)—and those eccentric, determined characters who try to find them.
These are the stories that defy conventional logic. The proverbial vanished without a trace incidences, which happen a lot more (and a lot closer to your backyard) than almost anyone thinks. These are the missing whose situations are the hardest on loved ones left behind. The cases that are an embarrassment for park superintendents, rangers and law enforcement charged with Search & Rescue. The ones that baffle the volunteers who comb the mountains, woods and badlands. The stories that should give you pause every time you venture outdoors.
Through Jacob Gray's disappearance in Olympic National Park, and his father Randy Gray who left his life to search for him, we will learn about what happens when someone goes missing. Braided around the core will be the stories of the characters who fill the vacuum created by a vanished human being. We'll meet eccentric bloodhound-handler Duff and R.C., his flagship purebred, who began trailing with the family dog after his brother vanished in the San Gabriel Mountains. And there's Michael Neiger North America's foremost backcountry Search & Rescue expert and self-described "bushman" obsessed with missing persons. And top researcher of persons missing on public wildlands Ex-San Jose, California detective David Paulides who is also one of the world's foremost Bigfoot researchers.
It's a tricky thing to write about missing persons because the story is the absence of someone. A void. The person at the heart of the story is thinner than a smoke ring, invisible as someone else's memory. The bones you dig up are most often metaphorical. While much of the book will embrace memory and faulty memory—history—The Cold Vanish is at its core a story of now and tomorrow. Someone will vanish in the wild tomorrow. These are the people who will go looking.
Praise for The Cold Vanish: Seeking the Missing in North America's Wilderness
"[A] compassionate and riveting non-fiction dive into wilderness disappearances."—MacLean's
"The Cold Vanish is part mystery, part glance into a world of heroes and charlatans, death, and loss that most of us, fortunately, do not know, and don't want to know, but perhaps should. The Cold Vanish is informative, and in a sad way, captivating and well worth a read."—National Parks Traveler
"Colorful side characters, like psychics and Bigfoot hunters, provide some light moments, but what makes a lasting impression is the story of Randy and his ultimately dashed hopes of finding his son alive. The author's personal involvement makes this tale all the more affecting."—Publishers Weekly (starred review)
"A compassionate, sympathetic, and haunting book sure to make you think twice before stepping out into the wilderness alone."—Kirkus (starred review)
"Required reading for anyone concerned about the missing, Billman's authentic and encyclopedic book leads us across the landscapes of the vanished with a journalist's acumen and a searcher's sympathy. It's both true and useful, a storytelling textbook I wish I'd read before my own son went missing."—Roman Dial, author of The Adventurer's Son
"Most of us prefer to measure and celebrate nature in terms of its tendency to delight, to inspire, to instill awe. But there is another metric by which the power of wilderness can be calibrated, which lies in its capacity to take us between its teeth, tear us asunder, and swallow up whatever is left with such ruthless efficiency that no trace remains. Thanks to Jon Billman's talent for wielding words with the chilling precision of a scalpel, The Cold Vanish lays open nature's capacity to evoke terror in a way that will give you pause the next time you think about venturing into the backcountry. Haunting, spooky, and propulsive." —Kevin Fedarko, author of The Emerald Mile: The Epic Story of the Fastest Ride in History Through the Heart of the Grand Canyon
"It's a rare book that makes the hair stand up on your neck and pierces your heart all at once. With The Cold Vanish, Jon Billman has created a breath-taking genre all his own: the search-and-rescue of wandering souls. I was captivated from start to finish."—Alyson Hagy, author of Scribe and Boleto
"A harrowing collection of real-life wilderness ghost stories, proving that - even in this era of GPS and Instagram - it is still quite possible to get lost out there."—Bill Gifford, New York Times bestselling author of Spring Chicken
"A shocking, gut-wrenching, thriller-paced investigation into America's "silent mass disaster" of people who have disappeared through the invisible membrane at the edge of even the shortest hike. . . The Cold Vanish belongs in the front rank of outdoor narrative nonfiction, with Krakauer, Matthiessen, Chatwin. And throw in Stephen King, there is horror here. Written with understated compassion, The Cold Vanish will take you deeper than you ever hope to go into the wild, and it will break your heart."—Peter Nichols, bestselling author of A Voyage for Madmen, The Rocks
"Through deep research and personal investigation, Jon Billman has crafted the definitive account of the baffling stories of people who go missing in the wilderness. The Cold Vanish is provocative, disturbing, compulsively readable-and a brilliant achievement."—David Roberts, author of The Mountain of My Fear and Deborah