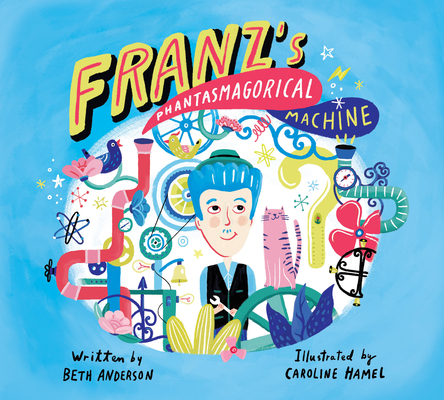 Franz's Phantasmagorical Machine
Publication Date:
May 3rd, 2022
Publisher:
Kids Can Press
Description
For every child who longs to make the most amazing thing, here's a delightful picture book biography of a determined self-taught inventor who never stops following the call to imagine, discover, create.
From the time he is a small boy, Franz is curious about machines and how they work. He wants to try to build his own. Even though he's needed to work on the family farm, and later marries and has a family of his own, Franz never gives up on his dream. He learns and tries and tests his ideas all on his own. And though many people don't understand or appreciate Franz's work, when his fantastic, complex creation is completed at long last, he finally finds an audience that recognizes his genius.
Beth Anderson's uplifting picture book biography offers an engaging look at the inspiring life of Franz Gsellmann, an inventor from rural Austria who, with no formal artistic or engineering training, built an elaborate, intricate machine called the Weltmaschine (World Machine). The well-told story extols the joy of curiosity and inventing for inventing's sake, and explores the concept of mechanical-kinetic sculptures, in which art and science intersect. Whimsical illustrations by Caroline Hamel help bring the subject to life. Supporting backmatter includes an author's note, resources, a biography of Franz, an explanation of the machine, a search-and-find activity and questions to get children thinking about their own ideas that could lead to fun classroom activities. This book has strong STEAM curriculum links, particularly in technology and structures, and valuable character education lessons in courage, perseverance and resilience.
Praise for Franz's Phantasmagorical Machine
A thought-provoking and stimulating historical episode.—Kirkus Reviews
[a] love letter to both unquenchable curiosity and outsider art.—Publishers Weekly
This tale of perseverance will do a great job of fostering experimentation and creativity ...—BookList