Voices of Rondo: Oral Histories of Saint Paul's Historic Black Community (Fesler-Lampert Minnesota Heritage) (Paperback)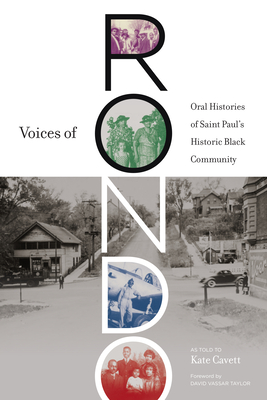 $19.95
On Our Shelves In Store Now
Description
---
In Voices of Rondo, real-life stories illuminate the northern urban Black experience during the first half of the twentieth century, through the memories and reflections of residents of Saint Paul's historic Rondo community. We glimpse the challenges of racism and poverty and share the victories of a community that educated its children to become strong, to find personal pride, and to become the next generation of leaders in Saint Paul and beyond.
About the Author
---
Kate Cavett has collected oral histories from more than two hundred men, women, elders, youth, and community members. In 1996 she cofounded Hand in Hand Productions, a nonprofit oral history organization based in Saint Paul. She was a consulting producer of Oh Freedom over Me, a documentary for American Public Radio that considers the history of Mississippi Freedom Summer 1964 as a challenge to address racism today.
David Vassar Taylor, professor, historian, and higher education administrator, grew up in Saint Paul's Rondo neighborhood. Between 1974 and 1975 he was appointed director of the Minnesota Black History Project for the Minnesota Historical Society. His books include African Americans in Minnesota and Cap Wigington: An Architectural Legacy in Ice and Stone.
Praise For…
---
"Reflections from this rich variety of persons whose lives were a part and parcel of that once vibrant community make for a compellingly grand and informative narrative."—Mahmoud El-Kati, Macalester College
"I truly enjoyed reading the stories of this distinguished group of African Americans, many of whom I have come to know quite well. Through their voices, I now have a much deeper understanding of the community that nurtured their talents."—Dr. Patricia A. Harvey, former Superintendent of Saint Paul Public Schools