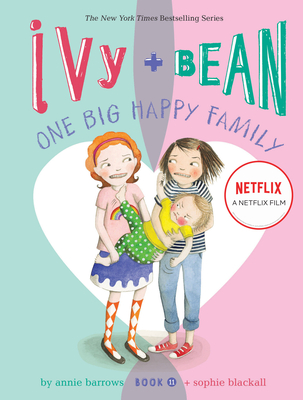 Ivy and Bean One Big Happy Family (Book 11) (Ivy & Bean)
Publication Date:
August 28th, 2018
Publisher:
Chronicle Books
Usually received by store in 2-5 days.
Description
A Netflix Original Film Series
A New York Times Bestselling Series
Over 8 Million Copies Sold
Book 11 in The New York Times bestselling Ivy & Bean series
Ivy and Bean are back, and they are funnier than ever: Ivy's worried. She's read a lot of books about only children, so she knows that they are sometimes spoiled rotten. They don't share their toys. They never do any work. They scream and cry when they don't get their way. Spoiler alert! Ivy doesn't have any brothers or sisters. That's why she's worried. How can she keep from getting spoiled? She could give away all her clothes, but she'd probably get in trouble. She could give away all her toys, but she likes her toys. There's really only one solution: she needs a baby sister, on the double! Luckily, Ivy and Bean know just where to get one.
• Perfect chapter book and book series for young readers
• Funny, relatable characters and story line
• Annie Barrows is the bestselling author of books for both children and adults including the Ivy & Bean series which has more than 5 million copies in print
"Longtime Ivy and Bean fans won't be disappointed and young readers who have yet to check out the series will find this a fine starting point." — Entertainment Weekly
A classroom favorite, Ivy and Bean have been keeping kids laughing — and reading — for more than a decade.
• Books for independent readers ages 6-9
• Elementary school chapter books
• Books for grades 1-4
Praise for Ivy and Bean One Big Happy Family (Book 11) (Ivy & Bean)
"Ivy + Bean Book 11 Is *Finally* Here, Your Kid's Not The Only One Who's Jumping With Joy." —Romper
"Ivy + Bean Book 11 Is *Finally* Here, Your Kid's Not The Only One Who's Jumping With Joy." —Romper
"A lively, entertaining read with heart." --Common Sense Media
"A lively, entertaining read with heart." --Common Sense Media
"Funny and big-hearted." —East Bay Express
"Funny and big-hearted." —East Bay Express
"Longtime Ivy and Bean fans won't be disappointed and young readers who have yet to check out the series will find this a fine starting point." -Entertainment Weekly
"Longtime Ivy and Bean fans won't be disappointed and young readers who have yet to check out the series will find this a fine starting point." -Entertainment Weekly
"Plenty of good-humored action. an easy choice for those newly transitioned to chapter books. Welcome back Ivy and Bean!" -Kirkus Reviews
"Plenty of good-humored action. an easy choice for those newly transitioned to chapter books. Welcome back Ivy and Bean!" -Kirkus Reviews