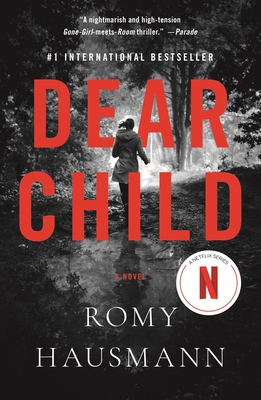 Dear Child: A Novel
Publication Date:
August 24th, 2021
Publisher:
Flatiron Books
Usually received by store in 2-5 days.
We've all heard the horror stories of women kept captive in basements, bearing children to madmen, only to escape after years of torture into a world they no longer remember and a public filled with fascination at their stories. Dear Child features two such women, both victims of the same abductor, but who suffer two very different fates. It is also the story of men who love too hard, in both the right ways and the wrong ways. At its heart it is the story of family, of what we will do to find those we've lost, how we love and show that love, and how we survive and come to peace with grief and guilt.
October 2020 Indie Next List
Description
NOW A #1 NETFLIX ORIGINAL SERIES AND #1 INTERNATIONAL BESTSELLER
"[A] tantalizingly disturbing debut…As enthralling as it is thought-provoking." -New York Times Book Review
BookPage's Top 10 Mystery & Suspense of the Year
Chicago Public Library's Best Books of 2020
New York Times Group Text Pick
A woman held captive finally escapes—but can she ever really get away?
Gone Girl meets Room in this page-turning, #1 internationally bestselling thriller.
A windowless shack in the woods. A dash to safety. But when a woman finally escapes her captor, the end of the story is only the beginning of her nightmare.
She says her name is Lena. Lena, who disappeared without a trace 14 years prior. She fits the profile. She has the distinctive scar. But her family swears that she isn't their Lena.
The little girl who escaped the woods with her knows things she isn't sharing, and Lena's devastated father is trying to piece together details that don't quite fit. Lena is desperate to begin again, but something tells her that her tormentor still wants to get back what belongs to him…and that she may not be able to truly escape until the whole truth about what happened in the woods finally emerges.
Twisty, suspenseful, and psychologically clever, Romy Hausmann's Dear Child is a captivating thriller with all the ingredients of a breakout hit.
"Chilling, original and mesmerizing." —David Baldacci
Praise for Dear Child: A Novel
"Equal parts mystery, thriller and family story…[A] tantalizingly disturbing debut…the overall experience is as enthralling as it is thought-provoking. Hausmann creates a dark solar system studded with twinkling stars… At the core of Dear Child is the constant hope that characters will be drawn back to people who mean the most to them, no matter how far apart they've been pulled. That glint of optimism is the light guiding readers as they fly through this book." —New York Times
"A nightmarish and high-tension Gone-Girl-meets-Room thriller." —Parade

"Perfect for fans of Room and The Water Cure." —Bustle, Best Books of Fall 2020
"This chilling, clever mystery begins where most suspense stories end: with the escape…Deliciously creepy…deftly crafted and keeps you guessing until the very last page." —Real Simple
"Dear Child is a chilling, original and mesmerizing work. Hausmann is a force to be reckoned with. You can't stop reading."
—David Baldacci, #1 New York Times bestselling author of Memory Man
"If you only read one thriller this year, choose this one. Room meets Gone Girl in this gripping novel, which will haunt you long after the last page. Deliciously dark, original, and beautifully written, I loved this book."
—Alice Feeney, New York Times bestselling author of Sometimes I Lie
"There are so many twists – all of them shocking…As unsettling as they come, this outstanding debut...is recommended not only to [Room] fans, but also to those who enjoy true crime, as the verisimilitude here is second to none. The movie can't be far behind."
—Booklist, starred review
"Outstanding debut…The multiple points of view and numerous plot twists sustain the breakneck pacing, but the books' real power lies in the author's insightful and sensitive portrayal of the characters involved in the tragedy. This darkly disturbing thriller definitely marks Hausmann as a writer to watch."
—Publishers Weekly, starred review
"I didn't even try to figure out whodunit. I just kept turning pages, wondering what the hell was going to happen until I had finished the book in one sitting, in the small-numbered hours of the late night."
—BookPage, starred review
"Dear Child is one of the best thrillers I've read this year. I finished it in one sitting. It's flawlessly plotted with a pace that refuses to let the reader come up for air—not that you'd want to."
—Stephanie Wrobel, bestselling author of Darling Rose Gold
"I read Dear Child in one sitting, holding my breath! Such a gripping, suspenseful and beautifully written novel. I loved it!"
—Jo Spain, author of The Confession
"An accomplished thriller, beautifully written, intriguing and very compelling."
—Peter James, #1 international bestselling author of Find Them Dead
"A peerless exercise in suspense . . . Whether treated as a study in trauma and identity or a dark, well-crafted crime narrative from multiple perspectives, it is a nail-biting fare," —Financial Times
"Terrifying and fiercely compelling, this is heartbreaking" —Daily Mail
"Hausmann makes you care about her characters even while they keep you guessing'"—Sunday Express
"Told from multiple viewpoints which gives a satisfying complexity . . . An intelligent and original book" —Sunday Independent