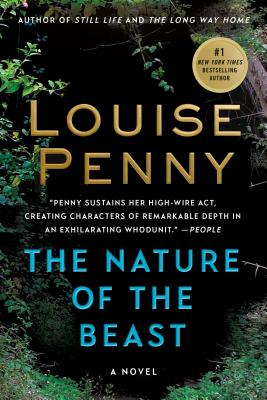 The Nature of the Beast: A Chief Inspector Gamache Novel
Publication Date:
July 26th, 2016
Publisher:
Minotaur Books
Usually received by store in 2-5 days.
Penny scores again with this story of the struggle between the forces of good and evil in the tiny Canadian village of Three Pines. Retired homicide chief Armand Gamache must use all of his detective skills and worldly wisdom to solve the murder of a young boy, an investigation that uncovers a threat to global security. The eccentric citizens of this remote outpost add their own color and knowledge to the unraveling of this complex mystery. This book is a pure delight!
September 2015 Indie Next List
Description
The Nature of the Beast is a New York Times bestselling Chief Inspector Gamache novel from Louise Penny.
Hardly a day goes by when nine year old Laurent Lepage doesn't cry wolf. From alien invasions, to walking trees, to winged beasts in the woods, to dinosaurs spotted in the village of Three Pines, his tales are so extraordinary no one can possibly believe him. Including Armand and Reine-Marie Gamache, who now live in the little Quebec village.
But when the boy disappears, the villagers are faced with the possibility that one of his tall tales might have been true.
And so begins a frantic search for the boy and the truth. What they uncover deep in the forest sets off a sequence of events that leads to murder, leads to an old crime, leads to an old betrayal. Leads right to the door of an old poet.
And now it is now, writes Ruth Zardo. And the dark thing is here.
A monster once visited Three Pines. And put down deep roots. And now, Ruth knows, it is back.
Armand Gamache, the former head of homicide for the Sûreté du Québec, must face the possibility that, in not believing the boy, he himself played a terrible part in what happens next.
Praise for The Nature of the Beast: A Chief Inspector Gamache Novel
"Penny sustains her high-wire act, creating characters of remarkable depth in an exhilarating whodunit." —People
"Louise Penny is unsurpassed at building a sense of heart-stopping urgency. Sometimes the stakes are personal: a marriage, a character's sanity. Sometimes the threat is to the village, a culture or even to the province of Quebec. This time Penny manages to create a threat that could truly be worldwide, and to place its future in the hands of our friends in Three Pines." —Salem Macknee, The News & Observer
"[M]agical....[T]he perfect reminder of the dark side of human nature, but that side does not always win out. Penny is an expert at pulling away the surface of her characters to expose their deeper-and often ugly-layers, always doing so with a direct but compassionate hand." —Kirkus Reviews (starred) on THE NATURE OF THE BEAST
"A strong sense of place, a multilayered plot, and well-crafted (and for Penny's fans, familiar) characters combine for a thoughtful, intriguing tale. More than a simple mystery, Penny's novel peels away the emotional and psychological layers of the inhabitants of Three Pines." —Library Journal, (starred) on THE NATURE OF THE BEAST
"Three Pines again proves no refuge in Penny's stellar [The Nature of the Beast]...fans will delight in [her] continued complex fleshing out of characters they have come to love." —Publishers Weekly (starred)
"[A] compelling mystery that leads to an exciting but tantalizingly open-ended finale." —Booklist on NATURE OF THE BEAST