Waiting for Eden: A novel (Hardcover)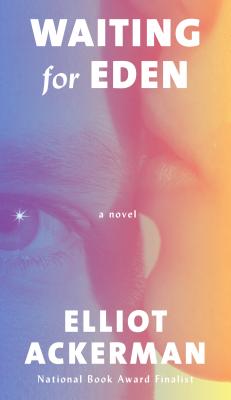 $22.95
Email or call for price.
October 2018 Indie Next List
---
"I was completely captivated by this intensely emotional yet compact novel. Both of Ackerman's previous novels were acclaimed by readers and critics alike, but Waiting for Eden proves something more. In less than 200 pages, the intersecting lives of three people and the consequences of their choices are revealed in an astounding manner. It's a love story, a ghost story, a horror story, a war story, and, ultimately, a testament to the resilience of the human spirit. I don't want to tell you much more as I don't want to spoil it, but urge you to read this powerful and important work of literature."
— Cody Morrison, Square Books, Oxford, MS
Description
---
"Patiently, and unflinchingly, Ackerman is becoming one of the great poet laureates of America's tragic adventurism across the globe." —Pico Iyer

Eden lies in a hospital bed, unable to move or speak. His wife Mary spends every day on the sofa in his room. We see them through the eyes of Eden's best friend, a fellow Marine who didn't make it back home—and who must relive the secrets held between all three of them as he waits for Eden to finally, mercifully die and join him in whatever comes after.
 
A breathtakingly spare and shattering novel that explores the unseen aftereffects—and unacknowledged casualties—of war, Waiting for Eden is a piercingly insightful, deeply felt meditation on loyalty, friendship, betrayal, and love.
 
"The Tim O'Brien of our era." —Vogue

"Devastating." —The Wall Street Journal

"Haunting. . . . Daring." —The Boston Globe

"Heart-wrenching." —NPR
About the Author
---
Elliot Ackerman is the author of the novels Dark at the Crossing, which was a finalist for the National Book Award, and Green on Blue. His writings have appeared in Esquire, The New Yorker, The Atlantic, and The New York Times Magazine, among other publications, and his stories have been included in The Best American Short Stories.
Praise For…
---
"Heart-wrenching." —Rachel Martin, Morning Edition/NPR
  
"Devastating." —Sam Sacks, Wall Street Journal

"How often does one encounter a novel as perfectly shaped, as fresh, as subtle and as explosive as this? I couldn't turn away from Elliot Ackerman's latest taut wonder, and when I got to the final page, I wanted to start all over again, in the light of the haunting last words. Patiently, and unflinchingly, Ackerman is becoming one of the great poet laureates of America's tragic adventurism across the globe." –Pico Iyer, author of The Art of Stillness

"Masterly . . . Brilliant . . . In his short novel, Ackerman accomplishes what a mountain of maximalist books have rarely delivered over tens of thousands of pages and a few decades: He makes pure character-based literary art, dedicated only to deeply human storytelling . . . Rachel Cusk's Outline trilogy and Jenny Offill's Dept. of Speculation have created similarly shimmering portraits of humans at rest and fury . . . Ackerman explore[s] conflicted, confused true love in such elegant and humane ways that you will come to question everything you think you know about the meanings of romance and fidelity . . . The micro-level power of his unadorned and direct prose lies in no less than an attempt to contain and dramatize the darkness and light of our souls . . . To identify this book as a novel seems inadequate: Waiting for Eden is a sculpture chiseled from the rarest slab of life experience." —Anthony Swofford, New York Times Book Review

"A slim heartbreaker about a war veteran who reflects on his troubled, secretive marriage."—Entertainment Weekly

"A classic triangle story of love and friendship, a ghost story, a captivity narrative, and a study of human endurance . . . all of it easily read in one sitting . . . Ackerman's novel quietly suggests that America itself is a ghost story, and we are all in the act of waiting for Eden." —Brian Turner, Washington Post

"Haunting . . . Daring . . . Ackerman's spare but vivid prose conveys everything it needs to convey." —Michael Upchurch, Boston Globe

"A novel about life-or-death decisions . . . Part of a long tradition of slim novels that take place almost entirely on Christmas, stretching back to Charles Dickens's A Christmas Carol . . . Ultimately hopeful."—Erin Vanderhoof, Vanity Fair

"Ackerman further shows himself to be the Tim O'Brien of our era." —Vogue

"With Waiting for Eden, Elliot Ackerman tells a story that cuts straight to the heart of the human condition. His sentences are elegant in their concision and directness, and they reveal as much about grief, love, and our duties to each other as any book I can recall reading. It's a bold, ambitious project even in its most quiet moments, for it asks no less than where we draw the line around the inherent value of human life. This is a devastatingly sad and compassionate piece of work. Extraordinary." —Kevin Powers, author of The Yellow Birds and A Shout in the Ruins

"Far more than a war story . . . A tautly written, gripping read . . . Part mystery, part thriller, part unconventional love story, Waiting for Eden explores with gravity and sensitivity the profound questions of love and fidelity, duty and honor, and how one creates a life worth living."—Julia Tagliere, Washington Independent Review of Books


"With sparse prose and a deft pen, Ackerman writes a profound meditation on the liminal space between our past, present, and future." —Library Journal (starred)
 
"Gorgeously constructed . . . Unique . . . A deeply moving portrayal of how grief can begin even while our loved ones still cling to life . . . A wonderful novel."—Booklist (starred)

"Heartbreaking . . . A deeply touching exploration of resentment, longing, and loss." —Publishers Weekly (starred)

"Eden is a masterful work, haunting and enduring . . . Tugs at the heartstrings . . . Engrossing . . . Ackerman displays his writing craft magnificently . . . A suspenseful tale that reveals the deepest recesses of human lives, hopes, and dashed dreams."—Jim Ewing, Mississippi Clarion Ledger

"An affecting, spare, and unusual novel. "—Kirkus Reviews (starred)
 
"Packed with love, pain, and guilt, but above all, a meditation on the legacies we leave behind." —BookPage

Coverage from NPR