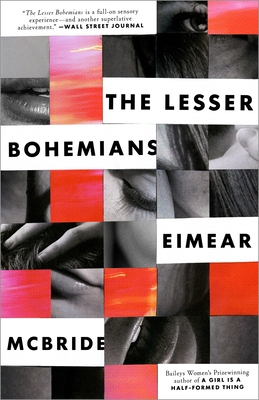 The Lesser Bohemians: A Novel
Publication Date:
August 15th, 2017
Description
A breathtaking award-winning novel about an extraordinary, all-consuming love affair
 
One night an eighteen-year-old Irish girl, recently arrived in London to attend drama school, meets an older man—a well-regarded actor in his own right. While she is naive and thrilled by life in the big city, he is haunted by more than a few demons, and the clamorous relationship that ensues risks undoing them both.
 
A captivating story of passion and innocence, joy and discovery set against the vibrant atmosphere of 1990s London over the course of a single year, The Lesser Bohemians glows with the eddies and anxieties of growing up, and the transformative intensity of a powerful new love.
Winner of the James Tait Black Prize for Fiction
Shortlisted for the International Dublin Literary Award
Shortlisted for the 2016 Goldsmiths Prize 
Shortlisted for the 2016 Bord Gáis Energy Irish Book Awards Eason Novel of the Year
Praise for The Lesser Bohemians: A Novel
Praise for THE LESSER BOHEMIANS

"[A] propulsive coming-of-age story... imbued with a captivating sense of youthful excitement and vulnerability."
—The New Yorker
"The confidence and the capacity are as good as anyone's…there's an openness, an inclusivity, a distinct lack of God-almightyness, that makes reading [McBride] such a pleasure."
—Jeannette Winterson, New York Times Book Review

"The Lesser Bohemians" is every bit as stylistically resourceful as "Girl," every bit as urgent and authentic. It is also more well-rounded, better. The narrative voice will be recognizable to readers of the earlier novel, capturing a snapshot of thought at the moment before grammar constrains it, what the author has referred to as a "stream of pre-consciousness." The word order is once again scrambled to ingenious (and poetic) effect, clauses pared down to their impressionistic essences…For a second time, Ms. McBride has channeled the mental life of a narrator with an intensity, a lack of mediation, that few authors can achieve. "The Lesser Bohemians" is a full-on sensory experience—and another superlative achievement."
—Wall Street Journal
 
"Spellbinding…[H]er stunning second novel shows that she has not only acquired fresh surfaces to work on, she has also developed exciting new brush strokes…McBride's prose sings…The Lesser Bohemians recalls Samuel Beckett and Henry Miller. Ultimately, though, it is a fiercely original work, an extraordinary novel crafted by a fearless modern writer."
—Minneapolis Star Tribune
 
"The Lesser Bohemians is a love story, yes, but it is really an electric and beautiful account of how the walls of self shift and buckle and are rebuilt."
—NPR.org
 
 "Joycean…The novel is filled with intricate, imaginative wordplay…crafted by one of the most admired young talents in fiction." 
—Scott Simon, NPR
 
"[A] powerful novel about desire."
—O, The Oprah Magazine
 
"Not often does a novel so expertly seduce its readers into an alternate state of consciousness that it mimics an actual dream state, where everything solid is hazily just beyond reach. Eimear McBride, with her deployment of modernist technique reminiscent of James Joyce, elicits such a mental state throughout her new novel, The Lesser Bohemians ― really,
it's the only way to read it."
—Huffington Post
 
"This is above all, a love story: bare, achingly romantic, and crushingly felt."
—Booklist, starred review