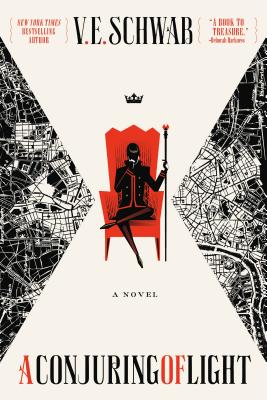 A Conjuring of Light: A Novel (Shades of Magic #3)
Publication Date:
March 13th, 2018
Description
Witness the fate of beloved heroes and notorious foes in the heart-stopping conclusion to V.E. Schwab's New York Times bestselling Shades of Magic trilogy.

*Kirkus' Best Fiction of 2017*

This edition will include the following special features:
*Full glossary of terms from the entire series
*Q&A between V.E. Schwab and her editor
As darkness sweeps the Maresh Empire, the once precarious balance of power among the four Londons has reached its breaking point.
In the wake of tragedy, Kell—once assumed to be the last surviving Antari—begins to waver under the pressure of competing loyalties. Lila Bard, once a commonplace—but never common—thief, has survived and flourished through a series of magical trials. But now she must learn to control the magic, before it bleeds her dry.
An ancient enemy returns to claim a city while a fallen hero tries to save a kingdom in decay. Meanwhile, the disgraced Captain Alucard Emery of the Night Spire collects his crew, attempting a race against time to acquire the impossible.
Shades of Magic series
1. A Darker Shade of Magic
2. A Gathering of Shadows
3. A Conjuring of Light
Praise for A Conjuring of Light: A Novel (Shades of Magic #3)
Entertainment Weekly's 27 Female Authors Who Rule Sci-Fi and Fantasy Right Now

"Flawless prose...the bittersweet conclusion is a fitting one for a fantastic,emotionally rich series that redefines epic." —Publishers Weekly, starred review, on A Conjuring of Light
"Desperate gambits, magical battles, and meaningful sacrifice make this a thrilling read." —Kirkus Reviews, starred review, on A Conjuring of Light

"Adventure beckons, and Schwab's smart, exhilarating story doesn't let go until the very end. And, not even then." —Shelf Awareness for Readers on A Conjuring of Light

"The book is still filled with incident and emotion, with difficulty and heartbreak and anger. And it frankly feels subversive." —NPR on A Gathering of Shadows
"[This has] all the hallmarks of a classic work of fantasy. Its plot is gripping. Its characters are memorable. [Its setting] is otherworldly yet believable. Schwab has given us a gem of a tale...This is a book to treasure." —Deborah Harkness, New York Times bestselling author of The All Souls trilogy
"Full of magic, intrigue, adventure, deception, a bit of piracy...this will engage both adult and young adult fantasy readers alike." —Booklist on A Darker Shade of Magic