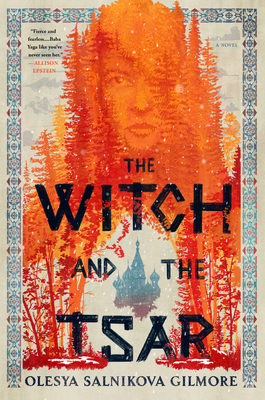 The Witch and the Tsar
Publication Date:
September 20th, 2022
Usually received by store in 2-5 days.
Description
"A delicate weaving of myth and history, The Witch and the Tsar breathes new life into stories you think you know."–Hannah Whitten, New York Times bestselling author of For the Wolf
 
In this stunning debut novel, the maligned and immortal witch of legend known as Baba Yaga will risk all to save her country and her people from Tsar Ivan the Terrible—and the dangerous gods who seek to drive the twisted hearts of men.
As a half-goddess possessing magic, Yaga is used to living on her own, her prior entanglements with mortals having led to heartbreak. She mostly keeps to her hut in the woods, where those in need of healing seek her out, even as they spread rumors about her supposed cruelty and wicked spells. But when her old friend Anastasia—now the wife of the tsar, and suffering from a mysterious illness—arrives in her forest desperate for her protection, Yaga realizes the fate of all of Russia is tied to Anastasia's. Yaga must step out of the shadows to protect the land she loves.
 
As she travels to Moscow, Yaga witnesses a sixteenth century Russia on the brink of chaos. Tsar Ivan—soon to become Ivan the Terrible—grows more volatile and tyrannical by the day, and Yaga believes the tsaritsa is being poisoned by an unknown enemy. But what Yaga cannot know is that Ivan is being manipulated by powers far older and more fearsome than anyone can imagine.
 
Olesya Salnikova Gilmore weaves a rich tapestry of mythology and Russian history, reclaiming and reinventing the infamous Baba Yaga, and bringing to life a vibrant and tumultuous Russia, where old gods and new tyrants vie for power. This fierce and compelling novel draws from the timeless lore to create a heroine for the modern day, fighting to save her country and those she loves from oppression while also finding her true purpose as a goddess, a witch, and a woman.
Praise for The Witch and the Tsar
"An utterly enchanting, wholly immersive debut that deftly reimagines the legend of Baba Yaga. This one is unmissable."—Alexis Henderson, Author of The Year of the Witching

"The Witch and the Tsar delivers high stakes, memorable characters, and a sixteenth-century Russia you can almost reach out and touch. Yaga's tale is a story I never knew I needed."  - Genevieve Gornichec, National bestselling author of The Witch's Heart
"A rich and vivid tapestry of old Russia in an age when Tsar Ivan the Terrible grappled not only with political foes but with the legendary witch Baba Yaga and her command of magic and pagan gods.  An evocative journey into old Russian myth and history, and a poignant exploration of what it means to be both human and immortal."–Margaret George, New York Times bestselling author of The Splendor Before the Dark
"This epic tale brings both history and folklore to vivid life. It's a fresh, exciting take sure to capture fans of Madeline Miller's Circe and Jennifer Saint's Ariadne." - Publishers Weekly
"A fierce, historically rich reimagining of the story of Baba Yaga.. full of complicated, three-dimensional women." - Paste Magazine

"In the vein of Madeline Miller's Circe…The Witch and the Tsar incorporates impressive world-building…this deep-dive into Russian history and folklore presents a rich cultural panorama."-Historical Novel Society
"This is a feminist retelling of Yaga, deconstructing the conventional stories around the figure and exposing the ostracised wise woman behind them. Gilmore sets out to do for Baba Yaga what Miller did for Circe, Saint for Ariadne, North for Penelope…and achieves it beautifully…[A] rich and heady blend of historical fiction and mythological retelling." – The Fantasy Hive
"A beautiful combination of pre-Christian mythology and historical figures from mid-1500s Russia. Readers looking to discover a new Baba Yaga will enjoy The Witch and the Tsar." – Manhattan Book Review
"Fierce and fearless...With stunning prose and sharp insight, Olesya Salnikova Gilmore conjures up a captivating battle between gods, emperors, and folkloric spirits, led by a prickly, powerful heroine who leaps off the page and refuses to be ignored. This is Baba Yaga like you've never seen her before, and you're going to love her." –Allison Epstein, Author of A Tip for the Hangman
"Weaves myth and history into a poignant tale of love and war and gods in the flesh, with impeccable imagery and a heroine whose strength and courage stayed with me long after the final page. Fans of The Witch's Heart, Circe and The Bear and the Nightingale are sure to fall in love with Gilmore's compelling debut." – H.M. Long, Author of Hall of Smoke
"A perfect blend of fantasy and historical fiction... Immersive and beautifully written, Yaga's story reminds us that gods–like humans–can choose their own fates."–Anika Scott, international bestselling author of The Soviet Sisters
"Gilmore's immersive prose steeps readers in this wonderfully epic folktale full of magic and myth." - Library Journal (starred review)
"Expertly drawing from Russian history and mythology, Olesya Salnikova Gilmore transforms Baba Yaga into a complex heroine, whose quest to save her country sparkles with folk magic and supernatural intrigue. A powerful, original story."—Mary McMyne, Author of The Book of Gothel
"Beautifully written, gripping…a story of Baba Yaga as you have never met her before—don't even THINK about missing it! – Gabriella Saab, Author of The Last Checkmate