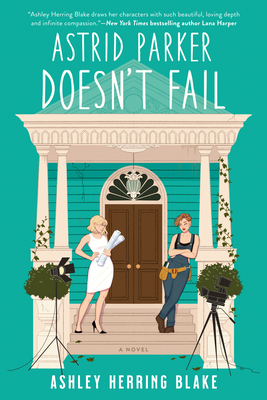 Astrid Parker Doesn't Fail
Publication Date:
November 22nd, 2022
Usually received by store in 2-5 days.
I think I loved this book even more thanDelilah Green Doesn't Care. There is something so comforting about returning to a group of characters for a second book. I can't wait to read Iris' story next!
December 2022 Indie Next List
Description
An interior designer who is never without the perfect plan learns to renovate her love life without one in this new romantic comedy by Ashley Herring Blake, author of Delilah Green Doesn't Care.
 
For Astrid Parker, failure is unacceptable. Ever since she broke up with her fiancé a year ago, she's been focused on her career—her friends might say she's obsessed, but she knows she's just driven. When Pru Everwood asks her to be the designer for the Everwood Inn's renovation, which will be featured on a popular HGTV show, Innside America, Astrid is thrilled. Not only will the project distract her from her failed engagement and help her struggling business, but her perpetually displeased mother might finally give her a nod of approval.
 
However, Astrid never planned on Jordan Everwood, Pru's granddaughter and the lead carpenter for the renovation, who despises every modern design decision Astrid makes. Jordan is determined to preserve the history of her family's inn, particularly as the rest of her life is in shambles. When that determination turns into some light sabotage to ruffle Astrid's perfect little feathers, the showrunners ask them to play up the tension. But somewhere along the way, their dislike for each other evolves into something quite different, and Astrid must decide what success truly means. Is she going to pursue the life that she's expected to lead or the one that she wants?
Praise for Astrid Parker Doesn't Fail
"Ashley Herring Blake knocks it out of the park again with a rivals-to-lovers story with a big beating heart! She has a knack for writing characters who feel like they could be your friends—flawed women with complex inner lives who leap off the page with personality. I wanted to give Astrid a giant hug; I wanted to give Jordan my number. Bright Falls is a world I want to live in, and I can't wait to return to!"—Alison Cochrun, author of The Charm Offensive
"As only she can, Ashley Herring Blake weaves magic through each corner of her work, transporting readers to an inclusive haven they'll never want to leave."—Courtney Kae, author of In the Event of Love
"If you've read the first in this series, you wouldn't think this could be even better, but somehow it is! Blake has outdone herself. She's truly a romance powerhouse and an auto buy author."—Meryl Wilsner, author of Mistakes Were Made
"Returning readers will be delighted to revisit Bright Falls and any romance fan will thrill at the sexual and emotional gratification on offer here."—Publishers Weekly
"Blake tenderly explores Astrid's journey to becoming more herself—which involves interrogating her career dreams and realizing that she's bisexual. Astrid and Jordan are both appealing characters, and Astrid's boisterous and endearing group of queer friends will make Bright Falls a town readers won't want to leave. A steamy, emotional, and charming romance about defining success on your own terms."—Kirkus Reviews
"The characters and relationship feel balanced and fresh...Blake's second "Bright Falls" novel (after Delilah Green Doesn't Care) is a good fit for readers looking for stories involving thirtysomething characters, bisexuality, strong friendships, and character growth."—Library Journal
"Ashley Herring Blake expertly employs humor and angst to set two lost women on a rocky path to happily ever after...For fans of renovation shows, found family, stolen kisses and the occasional crude joke, Astrid Parker Doesn't Fail is a literary success."—Shelf Awareness
"Delivering an emotionally complex yet upbeat rivals-to-lovers romance with two headstrong women at its core featuring relatable themes that are sure to make millennials feel seen like never before, Astrid Parker Doesn't Fail is a welcome addition to the queer adult romance genre!"—The Nerd Daily
"Ashley Herring Blake's follow-up to Delilah Green Doesn't Care is a hot and hopeful renovation romance."—BookPage