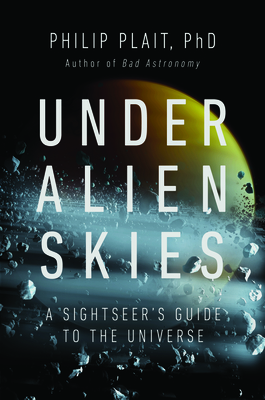 Under Alien Skies: A Sightseer's Guide to the Universe
Publication Date:
April 18th, 2023
Publisher:
W. W. Norton & Company
Usually received by store in 2-5 days.
Description
A Financial Times Best Science Book of 2023
A rip-roaring tour of the cosmos with the Bad Astronomer, bringing you up close and personal with the universe like never before.
Have you ever wondered what it would be like to travel the universe? How would Saturn's rings look from a spaceship sailing just above them? If you were falling into a black hole, what's the last thing you'd see before getting spaghettified? While traveling in person to most of these amazing worlds may not be possible—yet—the would-be space traveler need not despair: you can still take the scenic route through the galaxy with renowned astronomer and science communicator Philip Plait.
On this lively, immersive adventure through the cosmos, Plait draws ingeniously on both the latest scientific research and his prodigious imagination to transport you to ten of the most spectacular sights outer space has to offer. In vivid, inventive scenes informed by rigorous science—injected with a dose of Plait's trademark humor—Under Alien Skies places you on the surface of alien worlds, from our own familiar Moon to the far reaches of our solar system and beyond. Try launching yourself onto a two-hundred-meter asteroid, or stargazing from the rim of an ancient volcano on a planet where, from the place you stand, it is eternally late afternoon. Experience the sudden onset of lunar nightfall, the disorientation of walking—or, rather, shuffling—when you weigh almost nothing, the irritation of jagged regolith dust. Glimpse the frigid mountains and plains of Pluto and the cake-like exterior of a comet called 67P. On a planet trillions of miles from Earth, glance down to see the strange, beautiful shadows cast by a hundred thousand stars.
For the aspiring extraterrestrial citizen, casual space tourist, or curious armchair traveler, Plait is an illuminating, always-entertaining guide to the most otherworldly views in our universe.
Praise for Under Alien Skies: A Sightseer's Guide to the Universe
A rollicking, wondrous, and awe-inspiring introduction to the universe. Philip Plait's writing transports us to other worlds and in the process helps us to appreciate our own world.
— John Green, author of The Fault in Our Stars and The Anthropocene Reviewed
Reading Under Alien Skies is the next-best thing to traveling through space and time. Philip Plait is a funny, warm, and welcoming guide to the most marvelous places in the universe.… You'll experience what it would be like to actually be there, while learning some of the most mind-expanding science humans have ever figured out. When you look up at the night sky, you'll think of this book and smile.
— Laura Helmuth, editor-in-chief of Scientific American
Philip Plait takes us to nearby worlds and star systems far, far away, where we do plenty of exploration, a bit of astronomical science, and a lot of marveling. But it's the descriptions of your spaceships and suits that will keep you strapped in and reading on. His flights of science fiction fantasy are scientific and absolutely spectacular. Enjoy the rides.
— Bill Nye, CEO, The Planetary Society
As charming and personal as it is detailed and accurate, Under Alien Skies is a wonderful guide to what we know about the universe and how we know it.
— Zach Weinersmith, creator of Saturday Morning Breakfast Cereal and New York Times best-selling co-author of Soonish
Plait takes us on a cosmic journey—a vivid guidebook for space tourists in the distant future.
— Clive Cookson - Financial Times
In his new book, Under Alien Skies …Plait brings his usual curiosity and humor to exploring 10 fascinating spots in our solar system and beyond. Plait delves into the science—and science fiction—of these space destinations, going beyond what telescopes and space photography can tell us about these strange worlds, and what it would actually be like to visit them in person.
— Ramin Skibba - Wired
A terrific guide to our spectacular universe. . . . Plait is a skilled, resourceful and, on occasion, downright visionary guide to the far reaches of outer space.
— Simon Ings - New Scientist
A bewitching cosmic ride through the solar system and beyond . . . Plait is the perfect captain on this expedition, vividly bringing these alien worlds to life while deftly weaving in the science to support the scenery.
— Ashley Yeager - Science News
Plait takes readers on an awe-inspiring tour of the cosmos in this dazzling outing…This will change how readers think about space.
— Publishers Weekly (starred review)
Plait could dance circles around what most of us know about space . . . [yet] finds ways to talk about how an everyday person would experience space. . . . [He] doesn't just look up at the sky and dream but really envisions what it would be like to spend a summer among the stars.
— Kelly Blewett - BookPage
[Plait's] realistic depictions, grounded in human senses, awaken a feeling of wanderlust and make the esoteric feel real…It's a remarkable journey.
— John Keogh - Booklist
Plait has a well-deserved reputation as a lively and accurate communicator of cutting-edge science, and this universal tour guide offers a great opportunity for him to flex his explanatory muscles . . . This is a hugely enjoyable read that brings a new perspective to the cosmos.
— Giles Sparrow - BBC Sky at Night Magazine