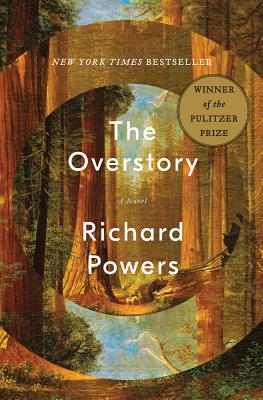 The Overstory: A Novel
Publication Date:
April 3rd, 2018
Publisher:
W. W. Norton & Company
Usually received by store in 2-5 days.
The Overstory, which contains an energy like that of the trees that link its intertwining stories, is nothing short of stunning. Such links between the human and non-human are mostly hidden to us, but only because we tend not to look very closely (or prefer not to see). Powers' most beautiful sentences are also the most devastating, which hints at the novel's hope that death - whether of a person or a plant - is never quite the end that it seems. Until, that is, we look, or prefer, finally, to see. As we are instructed near the novel's end, 'What you make from a tree should be at least as miraculous as what you cut down.' Plainly put: The Overstory is perhaps as close to such a miracle as we currently deserve.
April 2018 Indie Next List
I can't stop thinking about this book! A sprawling, literary eco-epic, The Overstory is the kind of novel that changes people. It's a riveting call to arms and a bitter indictment of our wasteful culture. More than that, it's an incredibly human story with a huge cast of richly imagined characters that you'll never forget. With writing that is dense but accessible, Powers is a master at intersecting science, art, and spirituality without sacrificing plot. I pity the next customer who comes into our store looking for 'a book about trees' because Powers has given me a lot to talk about.
Summer 2019 Reading Group Indie Next List
Description
Winner of the Pulitzer Prize in Fiction
Shortlisted for the Man Booker Prize
New York Times Bestseller
A New York Times Notable Book and a Washington Post, Time, Oprah Magazine, Newsweek, Chicago Tribune, and Kirkus Reviews Best Book of 2018
"The best novel ever written about trees, and really just one of the best novels, period."—Ann Patchett
An Air Force loadmaster in the Vietnam War is shot out of the sky, then saved by falling into a banyan. An artist inherits a hundred years of photographic portraits, all of the same doomed American chestnut. A hard-partying undergraduate in the late 1980s electrocutes herself, dies, and is sent back into life by creatures of air and light. A hearing- and speech-impaired scientist discovers that trees are communicating with one another. These four, and five other strangers—each summoned in different ways by trees—are brought together in a last and violent stand to save the continent's few remaining acres of virgin forest.
In his twelfth novel, National Book Award winner Richard Powers delivers a sweeping, impassioned novel of activism and resistance that is also a stunning evocation of—and paean to—the natural world. From the roots to the crown and back to the seeds, The Overstory unfolds in concentric rings of interlocking fables that range from antebellum New York to the late twentieth-century Timber Wars of the Pacific Northwest and beyond, exploring the essential conflict on this planet: the one taking place between humans and nonhumans. There is a world alongside ours—vast, slow, interconnected, resourceful, magnificently inventive, and almost invisible to us. This is the story of a handful of people who learn how to see that world and who are drawn up into its unfolding catastrophe.
The Overstory is a book for all readers who despair of humanity's self-imposed separation from the rest of creation and who hope for the transformative, regenerating possibility of a homecoming. If the trees of this earth could speak, what would they tell us? "Listen. There's something you need to hear."
Praise for The Overstory: A Novel
An ingeniously structured narrative that branches and canopies like the trees at the core of the story whose wonder and connectivity echo those of the humans living amongst them.
— citation from the Pulitzer Prize in Fiction
Autumn makes me think of leaves, which makes me think of trees, which makes me think of The Overstory, the best novel ever written about trees, and really, just one of the best novels, period.
— Ann Patchett
Monumental…The Overstory accomplishes what few living writers from either camp, art or science, could attempt. Using the tools of the story, he pulls readers heart-first into a perspective so much longer-lived and more subtly developed than the human purview that we gain glimpses of a vast, primordial sensibility, while watching our own kind get whittled down to size....A gigantic fable of genuine truths.
— Barbara Kingsolver, The New York Times Book Review (cover review)
Remarkable....This ambitious novel soars up through the canopy of American literature and remakes the landscape of environmental fiction.
— Ron Charles - Washington Post
A big, ambitious epic....Powers juggles the personal dramas of his far-flung cast with vigor and clarity. The human elements of the book—the arcs his characters follow over the decades from crusading passion to muddled regret and a sense of failure—are thoroughly compelling. So are the extra-human elements, thanks to the extraordinary imaginative flights of Powers's prose, which persuades you on the very first page that you're hearing the voices of trees as they chide our species.
— Michael Upchurch - Boston Globe
A rousing, full-throated hymn to Nature's grandeur.
— Dan Cryer - San Francisco Chronicle
An extraordinary novel....An astonishing performance....There is something exhilarating, too, in reading a novel whose context is wider than human life. The Overstory leaves you with a slightly adjusted frame of reference....What was happening to his characters passed into my conscience, like alcohol into the bloodstream, and left a feeling behind of grief or guilt, even after I put it down.
— Benjamin Markovits - The Guardian
Powers is the rare American novelist writing in
the grand realist tradition, daring to cast himself, in the critic Peter
Brooks's term, as a 'historian of contemporary society.' He has the courage and
intellectual stamina to explore our most complex social questions with
originality, nuance, and an innate skepticism about dogma. At a time when
literary convention favors novelists who write narrowly about personal
experience, Powers's ambit is refreshingly unfashionable, restoring to the form
an authority it has shirked.
— Nathaniel Rich - The Atlantic
This book is beyond special. Richard Powers manages to turn trees into vivid and engaging characters, something that indigenous people have done for eons but that modern literature has rarely if ever even attempted. It's not just a completely absorbing, even overwhelming book; it's a kind of breakthrough in the ways we think about and understand the world around us, at a moment when that is desperately needed.
— Bill McKibben
The Overstory is a visionary, accessible legend for the planet that owns us, its exaltation and its peril, a remarkable achievement by a great writer.
— Thomas McGuane