Hello World: Being Human in the Age of Algorithms (Paperback)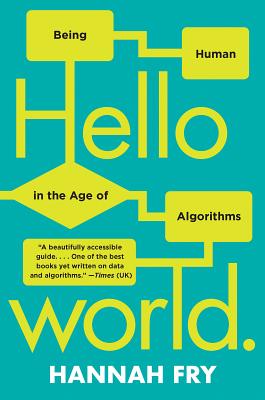 $15.95
Usually Ships in 1-5 Days
Description
---
"A beautifully accessible guide.… One of the best books yet written on data and algorithms."—Times (UK)



Shortlisted for the 2018 Royal Society Investment Science Book Prize



Shortlisted for the 2018 Baillie Gifford Prize
When it comes to artificial intelligence, we either hear of a paradise on earth or of our imminent extinction. It's time we stand face-to-digital-face with the true powers and limitations of the algorithms that already automate important decisions in healthcare, transportation, crime, and commerce. Hello World is indispensable preparation for the moral quandaries of a world run by code, and with the unfailingly entertaining Hannah Fry as our guide, we'll be discussing these issues long after the last page is turned.
About the Author
---
Hannah Fry is an associate professor in the mathematics of cities at the Centre for Advanced Spatial Analysis at University College London. A regular presenter for the BBC, she lives in London and tweets @FryRsquared.
Praise For…
---
With refreshing simplicity, Fry explains what AI, machine learning and complicated algorithms really mean.

Fascinating and funny. I learned something on every page.
— Tom Chivers

An action-packed read during which you will be outraged, provoked, and challenged.
— Cathy O'Neil, author of Weapons of Math Destruction

This short, sharp book on the power and dangers of algorithms offers one of the clearest explanations of a complex subject.

Hannah Fry is one of the best STEM explainers and popularizers today.
— "Top Ten Technology Books of 2018"

For a reader unfamiliar with the technical aspects of AI, this book offers among the best lay explanations of how algorithms work.

Hannah Fry makes algorithms sound not only quite interesting but an idea that we must understand better as they dominate more and more of our daily lives in ways we see and in many ways we don't.

Mixing mathematics and storytelling, this book asks the big questions about algorithms and humans—and their future together.

A well-constructed tour of technology and its discontents?timely, too, given the increasing prominence of AI in our daily lives.

A lucid and timely analysis.