Discounted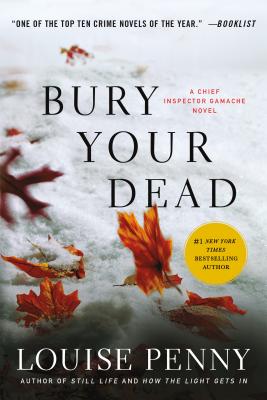 Bury Your Dead: A Chief Inspector Gamache Novel
Previous price:

$19.00
Current price:

$17.99
Publication Date:
August 2nd, 2011
Publisher:
Minotaur Books
Usually received by store in 2-5 days.
Timing is critical in a mystery. Just how much is revealed and when is what keeps the reader turning pages. Louise Penny nails both in this book, the sixth in the series featuring the Canadian Inspector Gamache. Engaging characters from previous books make their appearances, but it isn't necessary to have read the others to totally enjoy this book. Those who have read the others are eagerly awaiting this book, and those who start with this one will quickly turn to the other titles in the series. Heartily recommended for all lovers of good mysteries.
October 2010 Indie Next List
Description
Bury Your Dead is a novel about life and death—and all the mystery that remains—from #1 New York Times bestselling author Louise Penny
Chief Inspector Armand Gamache is on break from duty in Three Pines to attend the famed Winter Carnival up north. He has arrived in this beautiful, freezing city not to join the revels but to recover from an investigation gone hauntingly wrong. Still, violent death is inescapable—even here, in the apparent sanctuary of the Literary and Historical Society, where one obsessive academic's quest for answers will lead Gamache down a dark path. . .
Meanwhile, Gamache is receiving disturbing news from his hometown village. Beloved bistro owner Olivier was recently convicted of murder but everyone—including Gamache—believes that he is innocent. Who is behind this sinister plot? Now it's up to Gamache to solve this killer case. . .and relive a terrible event from his own past before he can begin to bury his dead.
"Few writers in any genre can match Penny's ability to combine heartbreak and hope."—Publishers Weekly (starred review)
Praise for Bury Your Dead: A Chief Inspector Gamache Novel
"A superior read. Bring on the awards."
—Kirkus Reviews (starred review)
"Few writers in any genre can match Penny's ability to combine heartbreak and hope in the same scene."
—Publishers Weekly (starred review)
"The best yet, a true tour de force of storytelling….Penny hits every note perfectly in what is one of the most elaborately constructed and remarkably
moving mysteries in years."
—Booklist (starred review)
"Superb….brilliantly provocative...will appeal to fans of literary fiction, as well as to mystery lovers."
—Library Journal (starred review)
"[Penny's] beautifully elegiac sixth book interweaves three storylines while plumbing the depths of Gamache's grief. The result is sophisticated and moving—her best yet."
—People (4 stars)
"Louise Penny's portrait of Quebec City is as lovingly detailed and evocative as anything she has written, and her control over this intricate blending of history and mystery is absolute. Furthermore, the deepening of Gamache's character is profoundly satisfying. The book, obviously, is a must-read for her fans, and demonstrates once again that she is in the first rank of crime-fiction writers in Canada, or indeed, in the world."
—Globe and Mail
"Penny seamlessly weaves subplots into her elegant book, along with rich portraits of Inspector Gamache and the endearingly cracked characters around him."
—Seattle Times
"Its shocking final solution here is brilliantly conceived and executed."
—The Denver Post
"Penny, always a demon researcher, is at the top of her game in the new book at combining real history with her own fictions. In addition to a great deal of Champlain back story - only a specialist in early Quebec history could judge whether Penny is letting her imagination run rampant - she presents in passing theories about Gen. Montcalm's failures at the Plains of Abraham and an assessment of the sad dwindling of the English presence in Quebec City."
—Toronto Star
"Fans who were upset by the shocking outcome of Penny's 'The Brutal Telling' will be pleased that she is not quite done with that unhappy episode in our favorite village. This series just keeps getting better."
—Charlotte Observer
"Louise Penny commands a deep and disturbing darkness of the soul -- with the cost of redemption resolutely figured into the consequences."
—Brattleboro Reformer
"With a rich depth of creativity, a stylish sense of language and an unerring instinct for the defining aspects of humanity, Penny explores eternal truths and, in so doing, shows us ourselves."
—Richmond Times Dispatch