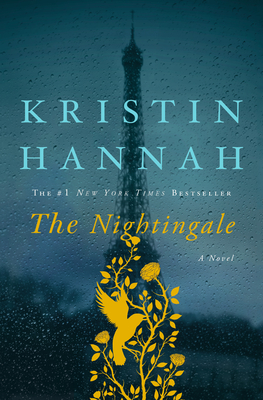 The Nightingale: A Novel
Publication Date:
February 3rd, 2015
Publisher:
St. Martin's Press
Usually received by store in 2-5 days.
Filled with sacrifice, betrayal, suspense, courage, and ultimately, forgiveness, The Nightingale offers a haunting glimpse of what it was like for women to survive during WWII. Set in a small town in France, The Nightingale tells the alternating stories of two sisters, their father, and the friends and enemies that occupy their lives during this tragic period of history. Based on a true story, The Nightingale weaves a riveting tale around the heroism of Isabelle, a young woman who serves as a key player in the underground Resistance, and her sister, Viann, who is back home under German occupation, near starvation and struggling to save Jewish children. In the end, however, perhaps this novel is more about the sisterly bonds of love that, although stretched to the limit, still endure. You will not forget the song of The Nightingale.
February 2015 Indie Next List
Description
A #1 New York Times bestseller, Wall Street Journal Best Book of the Year, and soon to be a major motion picture, this unforgettable novel of love and strength in the face of war has enthralled a generation.

France, 1939 - In the quiet village of Carriveau, Vianne Mauriac says goodbye to her husband, Antoine, as he heads for the Front. She doesn't believe that the Nazis will invade France … but invade they do, in droves of marching soldiers, in caravans of trucks and tanks, in planes that fill the skies and drop bombs upon the innocent. When a German captain requisitions Vianne's home, she and her daughter must live with the enemy or lose everything. Without food or money or hope, as danger escalates all around them, she is forced to make one impossible choice after another to keep her family alive.
Vianne's sister, Isabelle, is a rebellious eighteen-year-old girl, searching for purpose with all the reckless passion of youth. While thousands of Parisians march into the unknown terrors of war, she meets Gäetan, a partisan who believes the French can fight the Nazis from within France, and she falls in love as only the young can … completely. But when he betrays her, Isabelle joins the Resistance and never looks back, risking her life time and again to save others.
With courage, grace, and powerful insight, bestselling author Kristin Hannah captures the epic panorama of World War II and illuminates an intimate part of history seldom seen: the women's war. The Nightingale tells the stories of two sisters, separated by years and experience, by ideals, passion and circumstance, each embarking on her own dangerous path toward survival, love, and freedom in German-occupied, war-torn France—a heartbreakingly beautiful novel that celebrates the resilience of the human spirit and the durability of women. It is a novel for everyone, a novel for a lifetime.
Goodreads Best Historical Novel of the Year • People's Choice Favorite Fiction Winner • #1 Indie Next Selection • A Buzzfeed and The Week Best Book of the Year
Praise for The Nightingale:
"Haunting, action-packed, and compelling." —Christina Baker Kline, #1 New York Times bestselling author
"Absolutely riveting!...Read this book." —Dr. Miriam Klein Kassenoff, Director of the University of Miami Holocaust Teacher Institute
"Beautifully written and richly evocative." —Sara Gruen, #1 New York Times bestselling author
"A hauntingly rich WWII novel about courage, brutality, love, survival—and the essence of what makes us human." —Family Circle
"A heart-pounding story." —USA Today
"An enormous story. Richly satisfying. I loved it." —Anne Rice
"A respectful and absorbing page-turner." —Kirkus Reviews
"Tender, compelling...a satisfying slice of life in Nazi-occupied France." —Jewish Book Council
"Expect to devour The Nightingale in as few sittings as possible; the high-stakes plot and lovable characters won't allow any rest until all of their fates are known." —Shelf Awareness
"I loved The Nightingale." —Lisa See, #1 New York Times bestselling author
"Powerful...an unforgettable portrait of love and war." —People
Praise for The Nightingale: A Novel
Praise for The Nightingale:
"Haunting, action-packed, and compelling." —Christina Baker Kline, #1 New York Times bestselling author
"Absolutely riveting!...Read this book." —Dr. Miriam Klein Kassenoff, Director of the University of Miami Holocaust Teacher Institute
"Beautifully written and richly evocative." —Sara Gruen, #1 New York Times bestselling author
"A hauntingly rich WWII novel about courage, brutality, love, survival—and the essence of what makes us human." —Family Circle
"A heart-pounding story." —USA Today
"An enormous story. Richly satisfying. I loved it." —Anne Rice
"A respectful and absorbing page-turner." —Kirkus Reviews
"Tender, compelling...a satisfying slice of life in Nazi-occupied France." —Jewish Book Council
"Expect to devour The Nightingale in as few sittings as possible; the high-stakes plot and lovable characters won't allow any rest until all of their fates are known." —Shelf Awareness
"I loved The Nightingale." —Lisa See, #1 New York Times bestselling author
"Powerful...an unforgettable portrait of love and war." —People