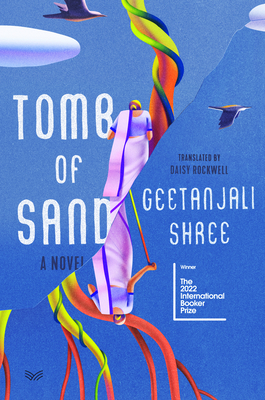 Tomb of Sand: A Novel
Publication Date:
January 31st, 2023
Usually received by store in 2-5 days.
Description
WINNER OF THE 2022 INTERNATIONAL BOOKER PRIZE
A playful, feminist, and utterly original epic set in contemporary northern India, about a family and the inimitable octogenarian matriarch at its heart.
"A tale tells itself. It can be complete, but also incomplete, the way all tales are. This particular tale has a border and women who come and go as they please. Once you've got women and a border, a story can write itself . . ."
Eighty-year-old Ma slips into a deep depression after the death of her husband. Despite her family's cajoling, she refuses to leave her bed. Her responsible eldest son, Bade, and dutiful, Reebok-sporting daughter-in-law, Bahu, attend to Ma's every need, while her favorite grandson, the cheerful and gregarious Sid, tries to lift her spirits with his guitar. But it is only after Sid's younger brother—Serious Son, a young man pathologically incapable of laughing—brings his grandmother a sparkling golden cane covered with butterflies that things begin to change.
With a new lease on life thanks to the cane's seemingly magical powers, Ma gets out of bed and embarks on a series of adventures that baffle even her unconventional feminist daughter, Beti. She ditches her cumbersome saris, develops a close friendship with a hijra, and sets off on a fateful journey that will turn the family's understanding of themselves upside down.
Rich with fantastical elements, folklore, and exuberant wordplay, Geetanjali Shree's magnificent novel explores timely and timeless topics, including Buddhism, global warming, feminism, Partition, gender binary, transcending borders, and the profound joys of life. Elegant, heartbreaking, and funny, it is a literary masterpiece that marks the American debut of an extraordinary writer.
Translated from the Hindi by Daisy Rockwell
Author's name pronounced: Ghee-TAHN-juh-lee Shree
Praise for Tomb of Sand: A Novel
"An extraordinarily exuberant and incredibly playful book. . . . It manages to take issues of great seriousness—bereavement, loss, death—and conjure up an extraordinary choir, almost a cacophony, of voices. . . . It is extraordinarily fun and it is extraordinarily funny."  — Frank Wynne, chair of the International Booker committee
"Tomb of Sand is in part the story of an elderly woman who arises from her bed to make a journey across frontiers, into a damaged past, but it is also a patchwork of voices and unforgettable characters, chattering among themselves, elbowing one another off the page. Heart-wrenching but brimming with life . . . A lasting joy." — The Financial Times
"Shree combines linguistic energy with unflagging wit to uncover the secrets and lies of Indian family life . . . [with] a marvelous ear. . . . Shree has no doubt drawn on the many writer she invokes directly in Tomb of Sand, but the novel I was most reminded of is an English-language one: Salman Rushdie's Midnight's Children." — New York Review of Books
"Shree is an excellent observer of women's inner lives. . . . This book, this Booker, has come at last, and for me it has come as a breath of fresh air."  — The Guardian
"The gorgeous writing is fluid and poetic, yet it is also plain and arresting with its direct second-person narration. Rockwell's translation retains wit and rich flavor. . . . Readers of international literature, award-list titles, and literary fiction will cherish Shree's written intricacies of interior worlds as well as her detailed settings that evoke a strong sense of place." — Booklist
"A triumph of literature."  — The Financial Times
"Playful, magical and magnetic, this monumental novel speaks to themes of love, grief, family ties, feminism, borders, spirituality, climate change and more." — Ms. magazine
"Quickly pulls you in and doesn't let go . . . A fantastical tale of rediscovery and delight in life." — Apartment Therapy
"A novel of enormous intelligence."  — The Daily Telegraph
"Stunningly powerful . . . with Tomb of Sand, Shree claims space among the Partition writers she so vividly pays her dues to. Because as with the best literature, it speaks most urgently to the present."  — The Hindu
"Tomb of Sand is sweeping in subject matter and experimental in language. At the same time it manages to combine folklore and magic with a domestic familial story. It is truly unlike anything I've ever read." — Asymptote
"[A] capacious, breathtaking book . . . Translator Daisy Rockwell deserves the equal billing the International Booker endows for translating the novel's idiosyncratic style so fluently and energetically. . . . It's impossible not to be charmed." — The Guardian
"Exceptional." — Irish Times
"There is a palpable freshness to Shree's world-building. Her India is a place where walls glide, snakes talk, butterflies know their worth and people are too insignificant to have names. Indeed, in its boldness and experimentation – and in its likelihood of influencing a new generation of authors – this breakthrough novel recalls Shree's fellow Indian-born Booker laureates, Arundhati Roy in The God of Small Things (1997) and Salman Rushdie in Midnight's Children (1981)." — Times Literary Supplement (London)
"An engrossing fable . . . Shree scrupulously examines the demarcation between life and death, mother and daughter, past and present, and how grief and memory, when harnessed, have the power to cultivate long lost connections. The narrator's witty observations and lengthy humorous asides add to the breadth and depth of this rich novel. . . . For the reader who wades in Shree's luminous prose, the book's threads braid into a single, vivid tapestry." — Minneapolis Star Tribune
"Echoes of James Joyce, Jorge Luis Borges, Isabel Allende and Leo Tolstoy . . . An enchanting ride." — BookPage
"An homage to the vibrancy of Hindi . . . [that] takes a page from Salman Rushdie's playbook with its adept use of magic realism . . . [Shree is] unabashedly paving her own path through the sandstorm of writers pining for Western acclaim." — Washington Post