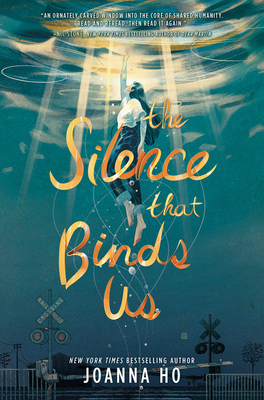 The Silence that Binds Us
Publication Date:
June 14th, 2022
Usually received by store in 2-5 days.
A stunning, nuanced book about grief, family, race, and standing up for what's right. I love how Ho lets May say the wrong things and make mistakes on her way to understanding antiracist activism. Thoughtful and complex, this is a must-read!
July/August 2022 Kids' Indie Next List
Description
"A grieving teen fights Asian hate by finding her voice in this complex, timely story." —Kirkus (starred review)
"With a layered, sensitive voice, Ho's weighty novel delves into themes of racism, classism, loss, and healing." —Publishers Weekly (starred review)
"Inspired by the recent rise in hate crimes against AAPI, Ho's story of inclusion, diversity, and social action rings true. Maybelline is a multifaceted narrator whose drive to right wrongs and stand up to injustice deserves applause. Ho illuminates both activism and mental health in marginalized communities, showing that even a bright, young achiever can experience depression without anyone knowing."—Booklist
"A powerful, hopeful YA debut. May's journey through personal and familial grief is poignant and questions of power and privilege are explored with nuance that will spark conversation among teen readers." —School Library Journal
"This sensitive novel does an impressive balancing act, examining mental illness and its stigma among Asian Americans while weaving in themes of racism and grief. The overarching messages—listening with empathy, and seeking help—ring loud and clear." —Horn Book
Joanna Ho, New York Times bestselling author of Eyes That Kiss in the Corners, has written an exquisite, heart-rending debut young adult novel that will inspire all to speak truth to power.
Maybelline Chen isn't the Chinese Taiwanese American daughter her mother expects her to be. May prefers hoodies over dresses and wants to become a writer. When asked, her mom can't come up with one specific reason for why she's proud of her only daughter. May's beloved brother, Danny, on the other hand, has just been admitted to Princeton. But Danny secretly struggles with depression, and when he dies by suicide, May's world is shattered.
In the aftermath, racist accusations are hurled against May's parents for putting too much "pressure" on him. May's father tells her to keep her head down. Instead, May challenges these ugly stereotypes through her writing. Yet the consequences of speaking out run much deeper than anyone could foresee. Who gets to tell our stories, and who gets silenced? It's up to May to take back the narrative.
Joanna Ho masterfully explores timely themes of mental health, racism, and classism. 
A Bank Street Books Best Children's Book of the Year for ages 14 and older in Family/School/Community and noted for outstanding merit (2023)
"An ornately carved window into the core of shared humanity. Read and re-read. Then read it again." —Nic Stone, New York Times bestselling author of Dear Martin
"Powerful and piercing, filled with truth, love, and a heroine who takes back the narrative." —Abigail Hing Wen, New York Times bestselling author of Loveboat, Taipei
"A held-breath of a novel that finds courage amidst brokenness, and holds a candle to the dark." —Stacey Lee, New York Times bestselling author of The Downstairs Girl
"Ho confronts racism with care and nuance, capturing the complexities of grief and growth. A poignant call to action." —Randy Ribay, National Book Award finalist for Patron Saints of Nothing
Praise for The Silence that Binds Us
"A grieving teen fights Asian hate by finding her voice in this complex, timely story." — Kirkus Reviews (starred review)
"With a layered, sensitive voice…Ho's weighty novel delves into themes of racism, classism, loss, and healing." — Publishers Weekly (starred review)
"The Silence that Binds Us is a propulsive reminder that race-based discrimination takes a multitude of forms, all of them insidious and traumatic. I adored this ornately carved window into the core of shared humanity. A fascinating exploration of what happens when deeply rooted cultural norms collide with privilege-centered notions of 'fairness.' Read and re-read. Then read it again." — Nic Stone, New York Times bestselling author of Dear Martin
"Zinger after zinger, Joanna pierces us with the truth we can't ignore even as she cocoons us in love. Just like May, she's taking back the narrative with her powerful pen." — Abigail Hing Wen, New York Times bestselling author of Loveboat, Taipei
"A held-breath of a novel that finds courage amidst brokenness, and holds a candle to the dark." — Stacey Lee, New York Times bestselling author of The Downstairs Girl
"Ho confronts racism with care and nuance, capturing the complexities of grief and growth. A poignant call to action." — Randy Ribay, National Book Award finalist for Patron Saints of Nothing
"A clarion call to search out, listen to, and uplift the narratives—personal, societal, and historical—that have been silenced by factors as intimate as shame and as broad as colonialism. Maybelline's insightful, honest narration frames her awkward conversations and her eloquent poetry to tell a vitally important story that everyone needs to hear." — Misa Sugiura, author of This Time Will Be Different
"A vital message of the power of using your voice for change. Both challenging and accessible, realistic and aspirational." — Kelly Loy Gilbert, author of When We Were Infinite
"I couldn't put Joanna Ho's The Silence That Binds Us down! This was a powerful empowering read that will inspire so many readers to scream, shout, stand up, speak out, and share their truths! I was so invested in May's family and her friendships and felt so proud of the characters and the ways they were able to transform by directly addressing the issues that impact them- racism, mental health, the culture of white supremacy, and the false ease of silence. I hope this book is read in every home, school, and library as it's an absolute necessary read!" — Tiffany Jewell, New York Times bestselling author of This Book Is Anti-Racist
"Inspired by the recent rise in hate crimes against AAPI… Ho's story of inclusion, diversity, and social action rings true. Maybelline is a multifaceted narrator whose drive to right wrongs and stand up to injustice deserves applause. Ho illuminates both activism and mental health in marginalized communities, showing that even a bright, young achiever can experience depression without anyone knowing." — Booklist
"A powerful, hopeful YA debut…May's journey through personal and familial grief is poignant and questions of power and privilege are explored with nuance that will spark conversation among teen readers." — School Library Journal