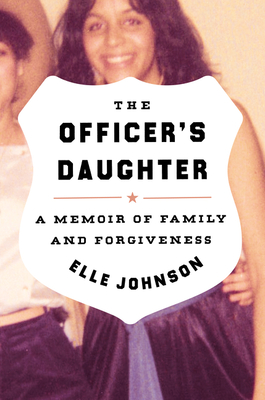 The Officer's Daughter: A Memoir of Family and Forgiveness
Publication Date:
February 16th, 2021
Description
"The Officer's Daughter is a masterpiece. More than that, it's the perfect book for our troubled time. Johnson has written the deepest, most emotionally resonant understanding of forgiveness and justice I have ever read."—Darin Strauss, bestselling author of Half a Life
The author reflects on a terrible tragedy that forever altered the fabric of her family in this remarkable memoir, a heart-wrenching story of love, violence, coming of age, secrets, justice, and forgiveness. 
When she was sixteen, Elle Johnson lived in Queens with her family; she dreamed of being best friends with her popular, cool cousin Karen from the Bronx.  Coming from a family of black law enforcement officers, Elle felt that Karen would understand her in a way no one else could. Elle's father was a highly protective, at times overbearing, parole officer; her uncle, Karen's dad, was a homicide detective. 
On an ordinary night, the Johnson family's lives were changed forever. Karen was shot and killed in a robbery gone wrong at the Burger King where she worked. The NYPD and FBI launched a cross-country manhunt to find the killers, and the subsequent trials and media circus marked the end of Elle's childhood innocence.
Thirty years later, Elle was living in Los Angeles and working as a television writer, including on many police procedural shows, when she received an unexpected request. One of Karen's killers was eligible for parole, and her older brother asked Elle to write a letter to the parole board arguing against his release. Elle realized that before she could condemn a man she'd never met to remain in prison, she had to face the hard truths of her own past: of a family who didn't speak of the murder and its devastating effect, of the secrets they buried, of a complicated father she never truly understood. 
The Officer's Daughter is a piercing memoir that explores with unflinching honesty what parents can and cannot do to protect their children, the reverberations of violence on survivors' lives, and the overwhelming power of forgiveness, even in the face of unspeakable tragedy.
Praise for The Officer's Daughter: A Memoir of Family and Forgiveness
"The Officer's Daughter, by Elle Johnson, is a masterpiece. More than that, it's the perfect book for our troubled time. Johnson has written the deepest, most emotionally resonant understanding of forgiveness and justice I have ever read."  — Darin Strauss, bestselling author of Half a Life
"Immensely moving." — New York Times
"A powerful portrait of one family's 'grief that will never end'."  — People
"This fierce, probing memoir beautifully explores the powerful aftershocks of staggering loss. How does a family go on, after senseless, random violence claims one of their own? Buried secrets fester until someone is brave enough to go digging. Elle Johnson has written a gift of a book — one that instructs and inspires, even as it breaks your heart." — Dani Shapiro, New York Times bestselling author of Inheritance 
"The Officer's Daughter is a powerful dissertation on the legacy of violence; a telling journey to the place in the heart where forgiveness is found. Elle Johnson's words are beautiful, poignant and painful; and always deeply resonant with truth. This book has an echo that stays with you well after you have turned the last page." — New York Times bestselling author, Michael Connelly   
"Screen writer Johnson debuts with a beautiful and emotional memoir of a family tragedy...This searing story deserves a wide readership." — Publishers Weekly (starred review)
"Powerful reflections on crime, murder, punishment, and redemption...A remarkable exploration of forgiveness by a veteran storyteller." — Kirkus Reviews (starred review)