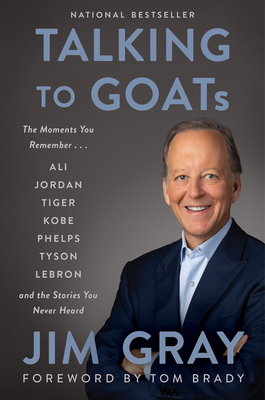 Talking to GOATs: The Moments You Remember and the Stories You Never Heard
Publication Date:
September 7th, 2021
Publisher:
William Morrow Paperbacks
Usually received by store in 2-5 days.
Description
INSTANT USA TODAY BESTSELLER!
WITH A FOREWORD BY TOM BRADY
 "As a sportscaster and sports historian, Jim's career genuinely stands the test of time. . . . This book is sports history about some of the greats by one of the greats, who was taking it all in on the sidelines, in the stands or the dugout, by the eighteenth green, courtside, or in the broadcast booth."  —Tom Brady, seven-time NFL Super Bowl champion GOAT
A riveting, insightful memoir of never-before-told stories from Jim Gray, twelve-time Emmy Award-winner, Hall of Fame sports broadcaster, and renowned interviewer— that explores the author's career and the inside stories and memorable moments of the famous legends he has covered including, Muhammad Ali, Tom Brady, Kobe Bryant, LeBron James, Michael Jordan and Mike Tyson.
In Talking to GOATs, award-winning broadcaster Jim Gray looks back at his four decades of sports reporting from the unparalleled perspective of one of the world's most respected and skilled interviewers.  A journalist who many iconic athletes have trusted to tell their stories (of both triumph and disgrace), Jim has had unprecedented access to the people, places and extraordinary events in the world of sports. Asking tough but fair questions, he has broken numerous stories, and landed squarely in the middle of others, from the Ben Johnson and Barry Bonds steroid scandals, to Michael Jordan's surprise retirement, to the off-the-court Kobe/Shaq feud which led to their on-the-court break up, to being part of the live broadcast for twenty-two Super Bowls.  He's climbed into the ring to interview Mike Tyson after he bit off a chunk of Evander Holyfield's ear, and stood next to Ron Artest when the  "Malice at the Palace" melee erupted, and was on site at the bombing of the Atlanta Olympics.
Anyone who has watched Jim effortlessly engage his subjects at the precise moment of triumph or tragedy has little idea what it takes to secure the interview, or what actually happens when the camera cuts away.  These are real, mesmerizing, and previously untold stories.  Talking to GOATs features numerous world-class athletes, including Muhammad Ali, Tom Brady, Kobe Bryant, LeBron James, Michael Jordan, Floyd Mayweather, Michael Phelps, Mike Tyson and Tiger Woods, and world leaders George W. Bush, Barack Obama, Mikhail Gorbachev, and many more. On each page, Jim gives the reader a coveted all-access pass as he reviews the best interviews, the best athletes, and the best games in modern sports history. It's like a personal introduction to the characters and careers of these heroes and villains we've known since childhood. He examines how money, celebrity, the media, and power interact, and how sports, more than any other institution, has led to momentous transformations in American society.  
Praise for Talking to GOATs: The Moments You Remember and the Stories You Never Heard
"Gray had a front row seat to some of the most indelible games, fights, and moments in sports history. [He] knows how to tell a story...the narrative abounds with fascinating tales." — Kirkus Reviews
"If I had one word to describe Jim Gray, I would say, honest. It's very tough for reporters to be honest in the media business. He's not afraid to ask the tough questions, even if they're uncomfortable ones. He's transparent and direct about it. And that's why I have always had respect for Jim and what he does and how he does it." — Kobe Bryant, NBA Hall of Fame GOAT
"I know Jim Gray the man. He stood up for me with tremendous integrity and principle. He suffered the consequences for doing what was right on my behalf and for others for a just cause. Integrity is what matters, and I will never forget his honor and honesty. Jim tells our story in the book, and I appreciate it. I will always hold him in high regard with great respect and admiration."
— Hank Aaron, MLB Hall of Fame GOAT
"The first interview Jim ever did was with me. From his first to my last (many years later), we have had a very special relationship. I'm The Greatest and he's The Latest. Jim is the me of his profession. Just don't tell Howard (Cosell)." — Muhammad Ali, THE GOAT
"Jim interviewed me after my prolific fights. We were a sensational duo. Out of the ring, Jim became my most trusted friend. He's there no matter what and never afraid to give it to me straight, as he does in this book. He's always coming from a place of love and compassion. You know where you stand. Jim talks to GOATs because it takes a GOAT to know a GOAT. I'm so proud he wrote this book to share his legacy and, as you will learn, Jim is the goat whisperer." — Mike Tyson, Undisputed Heavyweight Champion of the World GOAT
"Talking to GOATs captures so beautifully the stories that my husband, Muhammad, shared with Jim. It brought back to life so many great memories and was very moving. I loved it, and I highly recommend this book." — Lonnie Ali, Mrs. GOAT
"A good sports reporter conveys the story of the day; a great one senses stories that will unfold over time and has the conviction to share them with their audience, nonetheless. Jim Gray is one of the greats!" — Michael Phelps, Olympian GOAT
"Jim will ask the questions, and he will calibrate your answers and they better not be silly or off the facts. That's why I nicknamed him Scratchy a long time ago. He keeps that mic in people's faces, as he's always digging and scratching for the story. Jim dug them all out for this book, which I hope you'll enjoy as much as I did." — Jack Nicholson, three-time Academy Award–winning GOAT
"I cherish the moments that I'm alone with a good book, and Talking to GOATs certainly qualifies. I love the great interviews that Jim has done throughout his career and the storytelling he captures on these pages. So please pull up a chair and enjoy this fascinating narrative that details his life with so many of the icons, just as I have." — Vin Scully, Hall of Fame broadcasting GOAT
"Jim Gray is as good at his profession as the countless Hall of Famers he has interviewed were at theirs. Every time I did an interview or watched one with Jim, he was well prepared and wasn't afraid to ask tough questions. That's what made them so interesting and informative, leading his audience to remark, 'I didn't know that' when the segment ended. And when people read Jim's book, I'm sure they will be saying the same thing." — Don Shula, Hall of Fame winningest-coach-in-NFL-history GOAT
"Forty-plus years of exchanging stories, creating memories, and experiencing moments of a lifetime together with Jim Gray—I would call that the very definition of 'friends for life.' Congratulations for successfully sharing your special story with the world. This book is a must read, and I'm looking forward to our next chapter together." — Julius "Dr. J" Erving, NBA/ABA Hall of Fame GOAT
"I found so much to learn in these chapters. If there is an art to an interview, then believe me, Jim Gray is Michelangelo and Talking to GOATs is a masterpiece. Why is he so good? Because he asks tough, hard, fair questions that you have to answer. He could have played for me, because he's tough, and he's a winner. So is this book." — Mike Ditka, NFL Hall of Fame player and coaching GOAT
"Jim Gray's riveting and powerful Talking to GOATs is a rare and different masterpiece for the ages. It's a poignant, personal, passionate, and purposeful reveal of what really happened everywhere in the world of sports in the past forty years. As a giant of the profession and the galaxy's most connected human, Jim has delivered a staggering festival of light that is comprehensive in its breadth, depth, currency, and relevancy." — Bill Walton, NBA and NCAA Hall of Fame GOAT
"I got to meet my heroes growing up: Muhammad Ali, Hank Aaron, Joe DiMaggio, and Ted Williams. Then I was able to spend time with the guys in my era that I admired including Michael Jordan, Magic Johnson, Larry Bird, Mike Tyson, Joe Montana, and Tom Brady. We all shared the same dream: wanting to win titles. All of us have been interviewed many times by Jim Gray, as he has shared our stories. Now, he shares them with us, and it's a compelling, riveting, and insightful read. I thoroughly enjoyed it." — Wayne Gretzky, NHL Hall of Fame GOAT
"In this fast-moving account, the big moments, big names, and occasional big controversies that have marked Jim Gray's long and eventful career are revisited with insight and a dose of humor. Sports fans will recall many of these moments but may be surprised by the details and stories Jim provides on these pages." — Bob Costas, Sports Broadcasting Hall of Fame GOAT
"If you love sports, and you love this country, and you love father-son stories, you will love this book."  — Brian Kilmeade