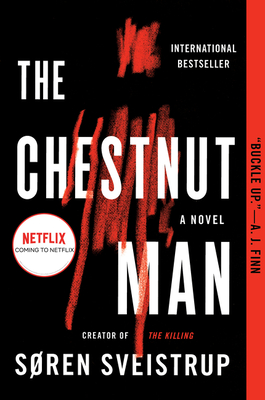 The Chestnut Man: A Mystery Novel
Publication Date:
September 8th, 2020
Publisher:
Harper Paperbacks
Usually received by store in 2-5 days.
This is the thriller of the year! From the creator of the Scandinavian mini-series The Killing, The Chestnut Man is an unbelievably fast-paced and exciting page-turner. I literally had trouble putting it down so I could go to sleep! A serial killer is on the loose, a cold case kidnapping is brought back to life, and a politician is attacked from all sides. This is the kind of book Thomas Harris would write, and it's one of the best-plotted mysteries in a long time. What a wonderful group of vivid characters and what a ride! Whew!
September 2019 Indie Next List
Description
Don't miss this page-turner for the mystery lover
NOW A NETFLIX ORIGINAL SERIES
If you find one, he's already found you ....
From the creator of The Killing, "a full-throttle thriller in the tradition of classic Stieg Larsson" (A.J. Finn, author of The Woman in the Window).
Winner of the Barry Award for Best First Mystery/Crime Novel * A New York Times Book Review Best Book of the Year
A psychopath is terrorizing Copenhagen.
His calling card is a "chestnut man"—a handmade doll made of matchsticks and two chestnuts—which he leaves at each bloody crime scene.
Examining the dolls, forensics makes a shocking discovery—a fingerprint belonging to a young girl, a government minister's daughter who had been kidnapped and murdered a year ago.
A tragic coincidence—or something more twisted?
To save innocent lives, a pair of detectives must put aside their differences to piece together the Chestnut Man's gruesome clues.
Because it's clear that the madman is on a mission that is far from over.
And no one is safe.
Praise for The Chestnut Man: A Mystery Novel
"Cunningly plotted  . . . . Although it's hard to look away from Sveistrup's fiendish villain, the good guys are also worthy of your attention." — New York Times Book Review
"A tension-charged debut. . . . Incendiary." — Financial Times
"This might just be the thriller of the year. The Chestnut Man grips you from the opening page and never lets go, as we're pulled into a haunting whirlwind of secrets, deception and the dark side of the soul. The policing is top-notch, of course, and the characters—good and bad—are so real we're sure we've met them before. Brilliant!" — Jeffery Deaver, author of The Never Game
"A full-throttle thriller in the tradition of classic Stieg Larsson, drenched in atmosphere and charged with adrenaline. Buckle up. You'll gulp down every word. I loved this book." — A.J. Finn, author of the The Woman in the Window
"A stellar debut." — Publishers Weekly, starred review
"This is a page-turner that will make you hesitate before turning the page, so unnerving is the violence. One of the best and scariest crime novels of the year, it adds to its rewards by promising us at least one sequel. A tantalizing, un-put-down-able novel by an instant master of the form." — Kirkus Reviews, starred review
"Superb… Sveistrup creates a plot so intricately woven that even a seasoned crime reader won't guess the ending. This book is the best kind of terrifying." — Library Journal, starred review
"A complex procedural deepened by gut-wrenching social commentary." — Booklist
"A big, bold, spend-all-day-reading thriller.... In his debut crime novel, Søren Sveistrup instantly establishes himself as a must-read author for fans of Nordic Noir legends Jo Nesbø and Lars Kepler—and, for that matter, as a must-read for any reader who just wants a gripping thriller to sink their teeth into." — Crime by the Book
"A thrilling page-turning story with lots of twists and turns that will keep you reading right to the last page." — Red Carpet Crash