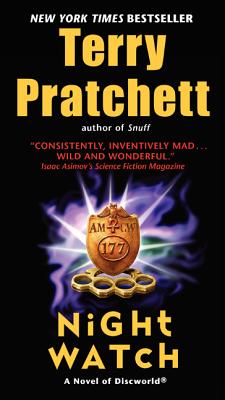 Night Watch: A Novel of Discworld
Publication Date:
July 29th, 2014
Usually received by store in 2-5 days.
Description
"Night Watch turns out to be an unexpectedly moving novel about sacrifice and responsibility, its final scenes leaving one near tears. . . Terry Pratchett may still be pegged as a comic novelist, but . . . he's a lot more." — Washington Post Book World
Getting knocked back in time thirty years, Sam Vines, Commander of the Ankh-Morpork City Watch experiences a day like no other in which past, present, and future collide with hilarious—and poignant—results in this rollicking Discworld adventure from Terry Pratchett.
One moment Commander of the City Watch Sam Vimes is chasing a murderer across the rooftops of Ankh-Morpork. The next, he's lying in the street below, naked—and back in his own tough past thanks to a lightning strike and a group of meddling, time-manipulating monks.
It's a dark Discworld that is all too familiar. Worse, the cop-killing psychopath he'd been pursuing has been transported back with him, and it's the eve of a deadly street rebellion that took a few good (and not so good) lives. Vimes is determined to do his duty— track down the murderer and change the outcome of the rebellion. By changing history he might just save some worthwhile necks, and steer a novice watchman straight—an impressionable young copper named Sam Vimes.
But if he succeeds, Sam knows it could cost him the future—including the job and the family he loves.
The Discworld novels can be read in any order but Night Watch is the 6th book in the City Watch collection and the 29th Discworld book.
The City Watch series in order:
Guards! Guards!
Men at Arms
Feet of Clay
Jingo
The Fifth Elephant
Night Watch
Thud!
Snuff
Praise for Night Watch: A Novel of Discworld
"Both comic and dark, blending high fantasy, twisted storytelling and all manner of wordplay...a fine place to start reading Pratchett." — New York Times Book Review
"The book's rapid cinematic pace - quick cutting, multiple plot lines converging - never flags . . . [Pratchett's] using his wit and brilliant talent for characterization to attack every kind of intolerance . . . NIGHT WATCH turns out of be an unexpectedly moving novel about sacrifice and responsibility, its final scences leaving one near tears. . . Terry Pratchett may still be pegged as a comic novelist, but as NIGHT WATCH shows, he's a lot more." — Washington Post Book World
"Compulsively readable. . . . Like Jonathan Swift, Pratchett uses his other world to hold up a distorting mirror to our own, and like Swift he is a satirist of enormous talent. He shares with Aristophanes a sense of the comedian's mission to teach, and with Sophocles a concern to examine the rule of law versus the rights of the individual." — Sunday Times (London)
"Pratchett's storytelling, a clever blend of Monty Pythonesque humor and Big Questions about morality and the workings of the universe, is in top form." — Publishers Weekly
"Night Watch mingles the expected array of silly names, hilarious footnotes, wicked puns, etc. with elements of dirty politics, nascent revolution, time and memory, heroism and sacrifice, recalling the more serious side of Dickens. . . . Pratchett makes it clear he can hold his own with the masters." — Locus
"The 28th addition to Pratchett's "Discworld" series explores time travel and historical inevitability with cleverness and humor. The author's talent for comedy does not falter as he continues to set the standard for comic fantasy." — Library Journal
"Nothing short of magical." — Chicago Tribune
"Masterful and brilliant." — Fantasy & Science Fiction