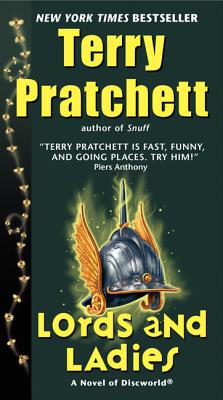 Lords and Ladies: A Novel of Discworld
Publication Date:
October 29th, 2013
Usually received by store in 2-5 days.
Description
"Unadulterated fun . . . witty, frequently hilarious. . . Pratchett parodies everything in sight." —San Francisco Chronicle
The fourth novel in the Witches Collection from New York Times bestselling author Sir Terry Pratchett, creator of the beloved Discworld series
It's a dreamy midsummer's night in the Kingdom of Lancre. But music and romance aren't the only things filling the air. Magic and mischief are afoot, threatening to spoil the royal wedding of King Verence and his favorite witch, Magrat Garlick. Invaded by some Fairie Trash, soon it won't be only champagne that's flowing through the streets . . .
The Discworld novels can be read in any order, but Lords and Ladies is the fourth book in the Witches series.
Praise for Lords and Ladies: A Novel of Discworld
"Excruciatingly funny, ferociously intelligent." — Kirkus Reviews, *Starred Review*
"Pratchett rethinks a classic story and comes up with a winner. . . . A not-to-be-missed delight." — School Library Journal, *Starred Review*